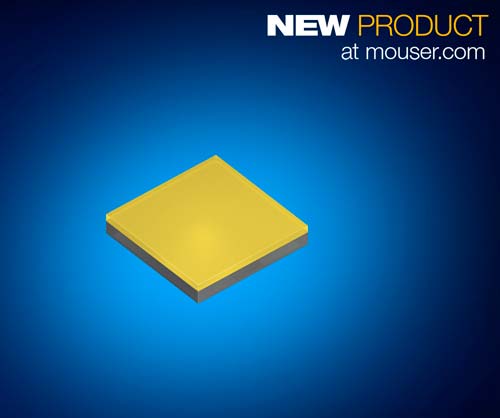 Mouser Electronics, Inc., the authorized global distributor with the newest semiconductors and electronic components, is now stocking Oslon® Pure 1010 LEDs from Osram Opto Semiconductors. Housed in an extraordinarily small 1 mm × 1 mm real chip scale package, the LEDs offer a top-emitting surface with a 120-degree viewing angle ideal for high-end retail lighting, customized chip-on-board (CoB) designs, and small luminaire designs with narrow spotlight requirements.
Osram's Oslon Pure 1010 LEDs, available from Mouser Electronics, provide scalable lighting design for compact spaces in one of the smallest form factors possible. The light-emitting surface is contacted within the component itself without the need for bond wires. The lack of bond wires — combined with the small form factor and automotive-grade flip chip die, which allows directional light to exit only from the top surface of the LED package — enables tighter LED clusters and outstanding flexibility in creating custom lighting solutions.
The LEDs have a typical luminous flux of 100 lm at 350 mA, a color temperature range of 2700 K to 5000 K, and a color rendering index (CRI) of 80, with CRI 90 coming soon. The number of individual LEDs, their arrangement and the relative proportions of warm white and cold white LEDs can be tailored to meet specific lighting requirements.
To learn more, visit www.mouser.com/osram-oslon-pure-1010-leds.