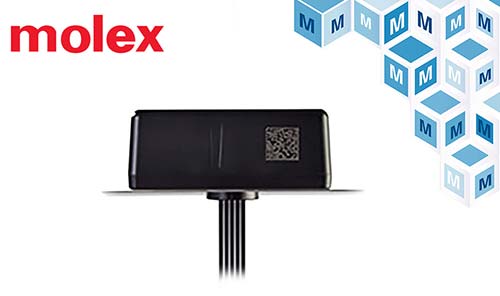 Mouser Electronics, Inc., the New Product Introduction (NPI) leader™ empowering innovation, is now stocking the Sunshade 5-in-1 antennas from Molex. Engineered for advanced commercial vehicles and wireless applications, the Sunshade 5-in-1 antennas combine LTE/5G full-band cellular, Wi-Fi® and GNSS functionalities into a single compact solution while providing reliable performance and extreme design flexibility.
The Molex Sunshade 5-in-1 antennas, available from Mouser Electronics, are low-profile antennas with built-in cellular (LTE and 5G) MIMO *2, Wi-Fi (tri-band) *2, and GNSS features, making them ideal solutions for diverse and advanced applications. The cellular 5G frequency on these antennas ranges from 698 MHz to 960 MHz and 1,710 MHz to 5 GHz, while the Wi-Fi frequency comprises 2.4 GHz, 5 GHz, and 6 GHz. The GNSS frequency range is 1,561 MHz to 1,602 MHz RF. Power for the antennas is specified at 2 W.
Constructed of high-quality plastic material and mated with SMA straight female cable plugs that facilitate adjustable cable lengths and are adaptable to FAKRA and HFM connectors, the enhanced design of the Sunshade 5-in-1 antennas is offered in two mounting styles for maximum flexibility. The 220573-1000 antenna has a bolt-nut for use on a vehicle top or roof cabinet, while the 219264-0001 has adhesive on the backside for mounting on any surface type. All Sunshade 5-in-1 antennas are ROHS compliant and have an IP67 protection rating, making them waterproof and protecting them against contact with objects greater than 1 mm in diameter.
The Molex Sunshade 5-in-1 antennas are available today through Mouser Electronics and measure a compact 95 mm x 95 mm x 38 mm in size. The antennas offer excellent performance on metal and non-metal surfaces and have an operating temperature range of -40°C to +85°C. Target applications include commercial vehicles (i.e., networking, smart vehicles, telematics boxes and specialized vehicles), wireless infrastructure (IoT, advanced IIoT and IT) and telecommunications/networking infrastructures.
To learn more, visit https://www.mouser.com/new/molex/molex-sunshade-5-in-1-antennas/.