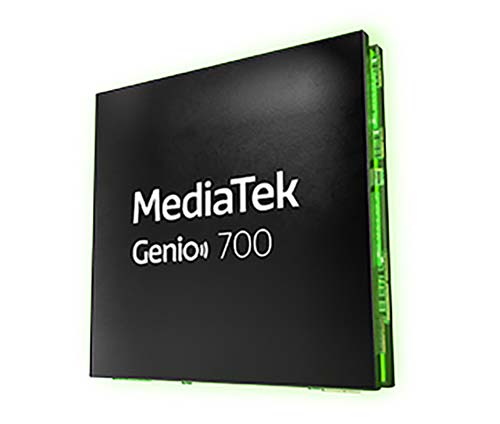 MediaTek's Genio 700 (MT8390) is a powerful edge AI IoT platform designed for industrial, smart home, interactive retail, and commercial applications. It offers responsive edge processing, advanced multimedia capabilities, Artificial Intelligence and connectivity. The highly efficient in-chip AI multiprocessor (APU) provides 4 TOPS performance for Deep Learning (DL), Neural Network (NN) acceleration, and also Computer Vision (CV) applications in combination with high-detail cameras up to 32 MP at 30 fps (via in-chip ISP and MIPI-CSI interface).
Just recently, MediaTek and Rutronik announced their franchise agreement for Europe and Israel – the Genio 700 is already available at www.rutronik24.com.
Genio 700 has an octa-core CPU with 2 ARM Cortex-A78 CPUs and 6 ARM Cortex-A55 CPUs, as well as a high-performance Arm Mali-G57 GPU, up to 8 GB of quad-channel LPDDR4X memory, and fast UFS storage. This high-performance platform supports Yocto and Ubuntu Linux, as well as Android, enabling easy development and deployment of sophisticated edge-processing applications.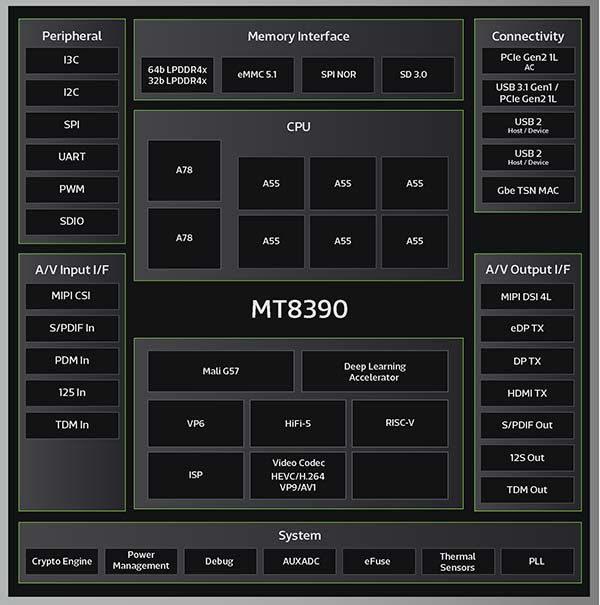 Utilizing TSMC's advanced N6 (6nm-class) production process, Genio 700 is extremely power efficient. Its comprehensive platform integration and small footprint help minimize BOM and development costs and accelerate time-to-market.
Via PCI-Express and USB, it is possible to expand the platform individually. It supports a wide range of connectivity options, including native Gigabit Ethernet with TSN as well as Wi-Fi 6 and 5G module options.
Dual-display support of up to 4K @ 60 fps and Full HD @ 60 fps enables above-average screen real estate, while advanced multimedia encoding/decoding engines, including AV1 decoding, make the Genio 700 ideal for personalized applications such as interactive advertising, audio and video streaming services, and video conferencing. In addition, the platform has Arm SystemReady as well as Arm PSA certification for security.
Further advantages at a glance:
Extremely energy efficient: Product developers can use fanless enclosures or battery-powered systems
Small footprint: minimizing BOM and development costs
MediaTek's Genio series is a scalable line of four devices that bridges the gap between low-power ARM and high-performance Intel/AMD processors
10-year longevity commitment from MediaTek
Examples of target applications:
Human-centered applications such as interactive advertising, audio and video streaming services, and video conferencing
Deep Learning (DL)
Neural Network (NN) acceleration
Computer Vision (CV)
Edge Computing / AI
For more information about the Genio 700 by MediaTek and a direct ordering option, please visit our e-commerce platform at www.rutronik24.com.