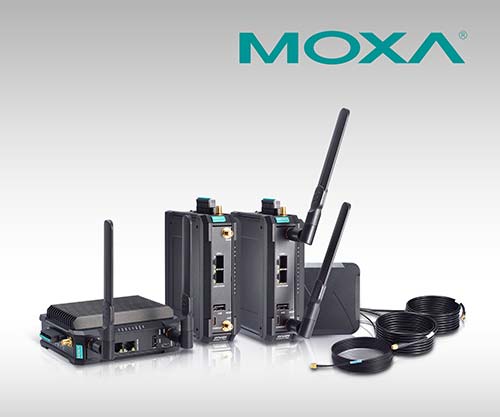 Moxa Inc., a leader in industrial communications and networking, introduced a new flagship model, OnCell G4302-LTE4, to its OnCell Series of next-generation secure cellular routers. The advanced-level secure cellular routers have new security software that complies with IEC 62443-4-2 standards, improving performance and speeding up vulnerability fixes. Also, their alignment with global wireless approvals enables secure communication for different industrial applications.
The 2022 Industrial Cybersecurity Report by Micro Trend[1] stated cyberattacks had affected 89% of organizations in the manufacturing, electric, and oil and gas industries. Among these industries, the oil and gas sector suffered the most significant financial damages, with an average cost of around USD 2.8 million. These findings highlight the pressing need for robust cybersecurity measures and protocols to safeguard critical infrastructure and protect against financial losses. For example, the famous ransomware attack on Colonial Pipeline in 2021, a turbulent history of cybersecurity and the largest on oil infrastructure in the U.S., shows the importance of strong cybersecurity defenses in OT environments to protect critical operations from cyberattacks.
"Moxa is devoted to developing a comprehensive networking solution with built-in security features for our customers. The OnCell G4300 Series, with its rugged design and industry certificates, ensures Moxa customers' critical systems remain running, and the cellular secure routers always stay at the forefront, protecting Industrial IoT applications from cyberthreats," said Li Peng, head of Moxa Industrial Network Security Business.
The OnCell G4302-LTE4 integrates MXsecurity software, providing centralized security and network management functions to configure and monitor devices remotely. Real-time alerts and notifications help enterprises quickly identify and troubleshoot issues. IEC 62443-2 compliance and advanced features like Secure Boot, Virtual Private Network (VPN) and Network Address Translations (NAT) protect data and networks from cyberthreats.
With built-in WAN redundancy and GuaranaLink technology, the OnCell G4302-LTE4 helps recover connection quickly, reducing downtime and minimizing interruptions to operations.
Offering industrial-grade reliability, the OnCell G4302-LTE4's rugged hardware is suitable for hazardous locations and has CCCEx, IECEx, ATEX, and Class 1 Division 2 certifications. Its wide temperature range from -30°C to +70°C ensures reliability, even in harsh environments. Furthermore, the OnCell G4302-LTE4 also has the EN50121-4, NEMA TS2, and E-mark E1 certifications to meet the needs of vertical applications.
Advanced Network Security Based on the IEC 62443-2 Standard for Uninterrupted Connections and Comprehensive Data Protection
The OnCell G4302-LTE4 comes with GuaranLink support for continuous and reliable cellular connectivity. It restores cellular connections before these issues lead to complete network failure.
With the ability to connect via WAN, the WAN Redundancy function detects any loss of WAN connection. It seamlessly switches to the cellular interface when the Ethernet interface is down and automatically switches back when it recovers.
Furthermore, Secure Boot, a built-in security mechanism, ensures edge computers boot only from a validated and authorized bootloader and operating system. All these features ensure the comprehensive protection of cellular routers from most types of threats. However, updates of the OnCell G4302-LTE4 security features will continue to stay ahead of the curve and fend off cyberattacks.
Secure Cellular Routers With Network Management Software Make Things Easier
The OnCell G4302-LTE4 secure cellular routers, alongside the MXsecurity industrial security management software, provides real-time visibility of cyberthreats with alerts and event notifications. The map view of the status of all cellular routers allows users to monitor distributed devices at a glance, enabling actionable management for better detection and reaction against cyberthreats.
Connecting every device through MRC Quick Link, users can remotely access devices quickly, reducing maintenance costs, and saving time. It helps OT and IT managers arrange resources accordingly for those cellular routers in unmanaged areas. The OnCell G4302-LTE4 not only builds up a security shield for network protection but also supports enterprises by managing all devices globally.
To experience the newest OnCell G4302-LTE4, users can contact Moxa's regional office to join an early-bird program that runs from August 2023 to March 2024. The program has limited openings and will be available on a first come, first served basis.
OnCell G4302-LTE4 Highlights
Global cellular bands support for the Europe, Australia, the U.S., Japan, and Asia-Pacific
Certification approvals by NEMA TS2, E-Mark E1, EN 50121-4, CID2, ATEX, CCCEx and IECEx
IEC 62443-4-2 based design for the cybersecurity protection with Secure Boot and future software feature updates
Built-in central management software supported by MXview One, MXconfig, MXsecurity, MRC Quick Link
Uninterrupted connection technology supported by GuaranLink and WAN redundancy
Industrial-grade hardware design for harsh environments with -30 to 70°C wide operating temperature
For product information and technical specifications of the OnCell G4302-LTE4 secure cellular router, visit the product page.
[1] Source of the Industrial Cybersecurity Report: https://resources.trendmicro.com/IoT-survey-report.html