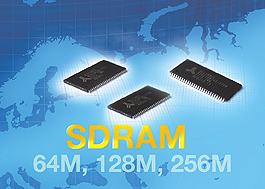 Alliance Memory has just launched a new family of CMOS synchronous DRAMs (SDR) with densities of 64 Mb (AS4C4M16S), 128 Mb (AS4C8M16S), and 256 Mb (AS4C16M16S), which is now available at MSC Vertriebs GmbH..
The new SDRs are optimized for industrial, communications, medical, and consumer products requiring high memory bandwidth, and are particularly well-suited to high-performance PC applications. Internally configured as four banks of 1M, 2M, or 4M word x 16 bits with a synchronous interface, the SDRs operate from a single +3.3-V (± 0.3V) power supply, and are lead (Pb)- and halogen-free.
Packaged in a 54-pin, 400-mil plastic TSOP II, the new SDRs offer a fast access time from clock down to 4.5 ns at a 5-ns clock cycle, and clock rates from 143 MHz to 200 MHz.
Our SDRs provide programmable read or write burst lengths of 1, 2, 4, 8, or full page, with a burst termination option. An auto pre-charge function provides a self-timed row pre-charge initiated at the end of the burst sequence. Easy-to-use refresh functions include auto or self refresh, while a programmable mode register allows the system to choose the most suitable modes to maximize performance.
Device Specification Table:
Part Number: AS4C4M16S; AS4C8M16S; AS4C16M16S
Density: 64 Mb; 128 Mb; 256 Mb
Configuration: 4M x 16 bit, 8M x 16 bit, 16M x 16 bit
Clock cycle (ns): 6/7; 6/7; 5/6/7
Max. access time from clock (ns): 5.4/5.4; 5/5.4; 4.5/5.4/5.4
Clock rate (MHz): 166.143; 166/143; 200/166/143
MSC Vertriebs GmbH
www.msc-ge.com