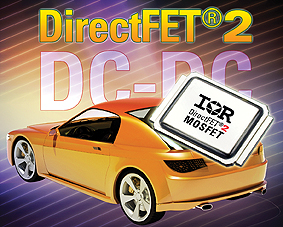 International Rectifier has introduced an automotive DirectFET®2 power MOSFET chipset optimized for DC-DC applications used in internal combustion engine (ICE) cars, hybrid and electric vehicles.
The new 40 V logic level gate drive chipset comprises the AUIRL7732S2 MOSFET and AUIRL7736M2 MOSFET optimized to help minimize switching and conduction losses in DC-DC converters. The devices may also be used in more generic heavy load applications such as inverter drives on pump and fans and relay replacement in junction box applications.
The DirectFET2 power package offers low resistance and parasitic inductance 10 times lower than a D2Pak resulting in excellent high frequency switching performance with reduced waveform ringing which in turn helps limit EMI and filter size. Also featuring dual-sided cooling and low on-state resistance.
Featuring low gate charge (Qg) the AUIRL7732S2 logic level MOSFET has a PCB footprint 38 percent smaller than an SO-8 package making it well suited for the control MOSFET position in a synchronous buck converter. The AUIRL7736M2 MOSFET is applicable for the synchronous switch position and features low Rds(on) and PCB footprint the same size as a 5×6 PQFN or SO-8 package. The low inductance of the AUIRL7732S2 and AUIRL7736M2 enables better switching performance at higher frequencies than traditional MOSFETs.
The automotive DirectFET 2 product line is built on the result of several years of research and development with the aim of producing a product platform specifically designed for automotive applications and built on the highly reliable and proven consumer grade DirectFET products.
The devices are qualified according to AEC-Q101 standards, feature an environmentally friendly, lead-free and RoHS compliant bill of materials, and are part of IR's automotive quality initiative targeting zero defects.
Datasheets, application notes and qualification standards are available on the International Rectifier website at www.irf.com. Spice and saber models are available on request.
International Rectifier
www.irf.com