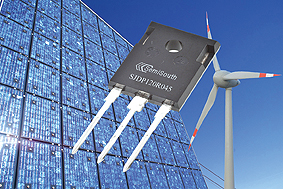 May 2011
SemiSouth Laboratories, Inc., the leading manufacturer of silicon carbide (SiC) transistor technology for high-power, high-efficiency, harsh-environment power management and conversion applications, has launched a new class of record-low, 45 milliohm, 1200 V, normally on trench SiC power JFETs. These breakthrough devices target a range of application spaces, including solar inverters, SMPS, induction heating, UPS, wind applications, and motor drives. This is their sixth product offering of their trench SiC JFET family, which was first released in 2008. This latest device boasts the lowest on-state resistance of any commercial SiC transistor in the world.
The record-low, maximum on-state resistance (RDS(on)max of only 0.045Ω is achieved with a relatively small die area, resulting in low gate charge and intrinsic capacitance for efficient, low-loss, high-frequency operation. Featuring a positive temperature coefficient for ease of paralleling, the new SJDP120R045 JFETs also offer extremely fast switching with no 'tail' current – even up to its high 175 degC maximum operating temperature in a TO-247 package. The product is also available in bare die form (SJDC120R045) for module partners. Being voltage-controlled, there are a number of easy gate drive schemes possible for the JFET, with complete reference designs and application notes available upon request from the Company.
Comments Dieter Liesabeths, Director of Sales: "SemiSouth's SiC power semiconductors deliver industry-leading performance coupled with competitive pricing. These new JFETs have three to four times lower switching losses than competing devices, as well as up to 50% lower on-resistance, lower costs, and improved reliability. With our simple gate drive solutions, it is easy to argue that they are also easier to drive than MOSFETs. The JFETs are commercially available in TO-247 (SJDP120R045) and bare die (SJDC120R045) format for integration into high-performance, high-efficiency power modules. We are seeing rapid adoption of this product from customers in solar inverter, automotive, medical, wind applications, industrial power supply, and other markets."
SemiSouth products are available through a global distribution network of several high-quality reps/distributors, listed at ( http://www.semisouth.com/contact/salesreps-distributors.html ).
SemiSouth Laboratories, Inc.
www.semisouth.com