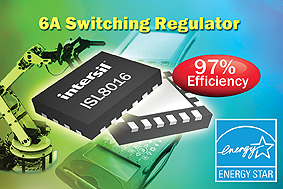 Milpitas, CA – May 3, 2011
Intersil Corporation, introduced the industry's most compact and efficient 6A synchronous buck (step-down) regulator. The new regulator features efficiency up to 97% and switching frequency up to 4MHz. The combination of features and compact size makes the ISL8016 an ideal design choice for applications such as industrial automation, communications infrastructure equipment, consumer electronics and instrumentation.
The ISL8016 features excellent efficiency across its entire load range. It offers automatic PFM mode and operation down to 2.7V, improving efficiency and enabling extended battery life or improved "Energy-Star" ratings. The ISL8016 delivers efficiencies the can remain flat over the full load range, reaching as high as 97%. In addition, by switching at frequencies up to 4MHz, the ISL8016 enables a smaller overall solution size — not just by virtue of its own compact package, but by also allowing designers to use smaller external components.
Features and Specifications
The ISL8016 integrates two low on-resistance MOSFETs, and lets users adjust operating frequency from 500kHz to 4MHz. For applications requiring minimum external components, the device offers a default 1MHz operation, a fixed internal 1ms soft start and internal compensation. The device accepts a single 2.7V to 5.5V input and can operate at 100% duty cycle, allowing the user to program a wide range of output voltages from 0.6V to Vin. Fixed output versions between 1.2V and 3.3V are also available for maximum design simplicity and even smaller footprint solutions.
In addition, the device supports current-sharing with phase interleaving allowing designers to provide multiples of 6A output current with reduced Vout ripple. For applications requiring less than 6A, the ISL8016 offers reduced current limit settings to utilize smaller inductors. To complete the full feature set, the ISL8016 has 1% reference accuracy over temperature, line and load variations, and ±10% voltage margining activated by a simple logic input.
Pricing and Availability
The ISL8016 is available now in a 3x4mm 20-pin QFN lead-free package with exposed pad for low thermal resistance. It is priced at $2.85 each in 1,000-unit quantities. For more information please visit http://www.intersil.com/products/deviceinfo.asp?pn=ISL8016.
Intersil
www.intersil.com