Stutensee, Germany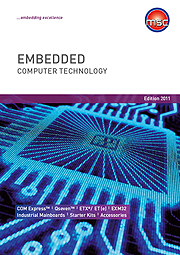 MSC Vertriebs GmbH describes its complete product range of innovative board level products in the updated "Embedded Computer Technology" edition 2011 color catalog. The new 52 pages brochure contains the key technical parameters of all offered COM Express™, Qseven™, ETX®, EXM32 platforms, industrial mainboards and starter kits.
MSC offers the most modern technologies and best design support and guarantees high quality
for the "Made in Germany" products. The first pages of the brochure addresses "Design and Production Expertise", "FPGA Development Tools", "Operating Systems" and "BIOS". The new brochure includes a tabular overview "COM Module Selector" that provides an easy comparison of all MSC embedded computing modules including processor type, maximum memory capacity, extension-bus support, operating system support as well as dimensions and typical power dissipation. Each module is presented individually with a short description, a picture, and a list of the important features.
One highlight of the new brochure is MSC's first low-power NVIDIA® Tegra™ 290 with a dual-core ARM® Cortex A9 processor based Qseven™ module, MSC Q7-NT2. The compact board is specified for an extended ambient temperature range from -40°C to +85°C and is for use in industrial applications in harsh environments and transportation applications. Due to its excellent graphics performance, the embedded platform is also ideally suited for digital signage, multimedia, entertainment and Internet TV systems.
MSC Vertriebs GmbH has further extended their range of powerful COM Express™ modules. The compact MSC CXB-6S COM Express™ platform offers a leap forward in computing power, graphics and video performance. These powerful CoM boards, in the basic form factor of 125 mm x 95 mm, are based on the second generation Intel® Core™ processors i3, i5 and i7 with two CPU cores and the quad-core i7.
The product brochure "Embedded Computer Technology" edition 2011 can be ordered free of charge from MSC Vertriebs GmbH as a printed version by email under boards@msc-ge.com, or downloaded in pdf format from the MSC website under www.msc-ge.com.
MSC Vertriebs GmbH
www.msc-ge.com