SUNNYVALE, CA—10 May 2011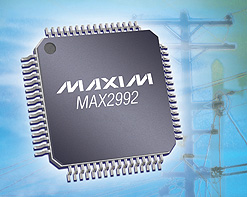 Maxim Integrated Products introduces the MAX2992, an OFDM-based powerline communication (PLC) modem that pairs with the MAX2991 analog front-end (AFE) to provide a complete PLC chipset for smart grid communications. This chipset complies with the emerging IEEE P1901.2 standard for OFDM-based communication over power lines and offers guaranteed interoperability. This standards compliance is critical to enabling smart grid deployments, as it helps utilities safeguard their substantial infrastructure investments.
"Until now, smart grid deployments have been impeded by the lack of standards-compliant solutions," explained Michael Navid, Executive Business Manager for Powerline Products at Maxim. "Building intelligence into the existing power grid will cost hundreds of billions of dollars. Utilities need a solution that is standards-based to protect their investments, to allow sourcing from multiple vendors, and to facilitate the integration of new services and equipment."
"From the start, G3-PLC was defined as an open standard for global implementations," continued Mr. Navid. "Maxim partnered with ERDF [Electricité Réseau Distribution France] and major equipment manufacturers to define the specification, conduct field tests, and prepare to rollout a pilot deployment for customers in France this summer. ERDF plans to use this technology to connect 35 million customers to their smart grid network over the course of their project.
"Now that G3-PLC has been recognized by multiple international standards bodies, independently tested by dozens of organizations worldwide, and adopted by several major international meter manufacturers, utilities around the world will be able to come off the sidelines and begin rolling out their smart grid networks with confidence."
The Advantages of G3-PLC
Maxim's G3-PLC technology provides the speed, robustness, and range demanded by large-scale powerline networks.
G3-PLC employs advanced broadband communication techniques to achieve speeds up to 300kbps in the noisy powerline environment. It uses OFDM technology to transmit data over multiple carriers, allowing designers to avoid interference at specific frequencies. Additionally, G3-PLC features a robust operating mode, bandwidth-efficient channel coding, and built-in error-correction mechanisms to guarantee reliable transmission—even when noise is stronger than the signal.
This robustness substantially reduces deployment costs for utilities. Unlike other protocols, G3-PLC can communicate across transformers, allowing utilities to connect more users to each data concentrator. This reduces the number of concentrators, saving equipment, installation, and maintenance costs. In addition, G3-PLC can communicate over long-distance medium-voltage lines at high speeds. Tested over 10km, this capability saves the expense of multiple repeaters, giving G3-PLC a significant cost advantage over other wired and wireless technologies.
The G3-PLC specification uniquely supports the IPv6 Internet-protocol standard to enable Internet-based energy management systems. IPv6 greatly expands the number of addresses available to grid-connected devices, ensuring that utilities can support new applications such as smart appliances and electric vehicle charging.
Operating over a wide 10kHz to 490kHz frequency range, G3-PLC complies with international powerline signaling regulations, including
CENELEC, FCC, and ARIB.
MAX2991/MAX2992 Chipset
The MAX2992 is a system-on-chip (SoC) solution that combines the physical (PHY) and media access control (MAC) layers using a 32-bit microcontroller core. The MAX2991 is a state-of-the-art AFE that features two-stage automatic gain control (AGC) with a 62dB dynamic range and on-chip programmable filters.
The chipset includes innovations such as:
• Worldwide compliance with regulatory bodies such as CENELEC, ARIB, and FCC (10kHz to 490kHz)
• Plug-and-play architecture to reduce installation cost
• Support for IPv6 to allow Internet-based energy management systems
• Enhanced CSMA/CA and automatic repeat request, together with mesh routing protocol, to support all common MAC services for various network topologies
• Fast CCM authentication coprocessor with AES-128 encryption/decryption to enhance data security
• Adaptive tone mapping for optimal bandwidth utilization
• Robust mode of operation to improve communication under noisy channel conditions
• Two layers of forward error correction (FEC) for robust data communication in harsh channels
Maxim will demonstrate the G3-PLC chipset in Booth A6 at the SG Paris 2011 exhibition (May 24–26, 2011). For more information, visit www.maxim-ic.com/powerline/.
G3-PLC is a trademark of Maxim Integrated Products, Inc.
Maxim Integrated Products
www.maxim-ic.com