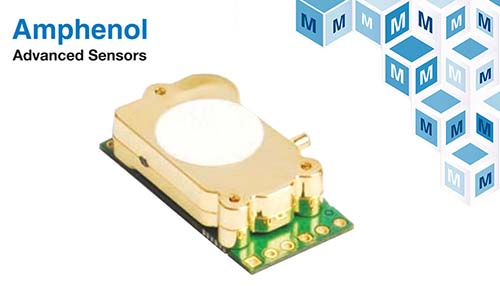 Mouser Electronics, Inc., the authorized global distributor with the newest semiconductors and electronic components, is now stocking the Telaire T6793 CO2 high accuracy NDIR carbon dioxide sensors from Amphenol. The Telaire T6793 sensors provide engineers with a flexible CO2 platform designed to interact with other microprocessor devices to measure and control CO2 levels for HVAC air quality, environmental and energy-saving applications.
The Amphenol Telaire T6793 NDIR carbon dioxide sensor, available from Mouser Electronics, is a miniature, non-dispersive, single-channel OEM CO2 sensor module with the accuracy and reliability of many larger sensors. The Telaire T6793 CO2 sensor meets the accuracy standards of CA Title 24 and has an accuracy rating of ±45 parts-per-million (ppm) +3% of reading in the measured range of 440 ppm to 2000 ppm. The Telaire T6793 sensor has a 4.4 V to 5.5 V supply voltage, a 200mA peak current with a 25mA average current that calibrates with most applications. The patented Telaire ABC Logic™ software features a lifetime calibration warranty, eliminating the need for calibration in most applications.
The Telaire T6793 CO2 high accuracy NDIR carbon dioxide sensor's ultra-small form factor (29.97 mm x 15.60 mm x 8.61 mm) and fast warm-up time provide an affordable gas sensing solution for OEMs with applications requiring an operating temperature range of -10C to +60C and relative humidity of 0% to 95% (non-condensing).
To learn more about the Telaire T6793 CO2 high accuracy carbon dioxide sensor visit https://www.mouser.com/new/amphenol/amphenol-telaire-t6793-co2-sensors/.