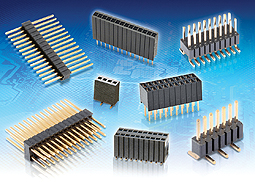 Harwin, the leading hi-rel connector and SMT board hardware manufacturer, has announced that its M52 2.54 × 1.27mm pin header range – part of its Archer board to board connector system – is now available ex-stock, rather than being produced to order based on a customer's selected pin height.. Available in through-board and SMT styles, many standard pin lengths can now be shipped immediately, increasing design flexibility.
This versatile, cost effective connector system offers good performance and is intermateable with other similar systems. It is ideally-suited to applications including test & measurement, robotics, industrial, handheld and medical equipment. SMT versions are available on tape & reel packaging for automated assembly.
Comments Paul Gillam, Product Manager: "Archer headers and sockets feature a dual point of contact design for reliability. They enable product miniaturisation without sacrificing ruggedness or performance."
Free samples and CAD models are available on-line at www.harwin.com/archer.
Harwin
www.harwin.com