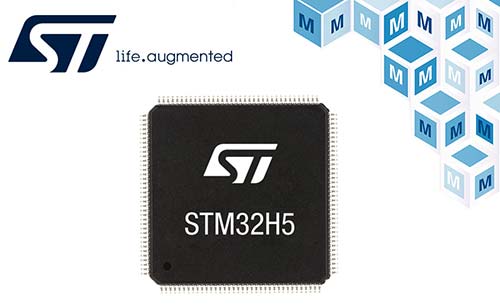 Mouser Electronics, Inc., the industry's leading New Product Introduction (NPI) distributor with the widest selection of semiconductors and electronic components™, is now shipping the STM32H5 microcontroller from STMicroelectronics. The STM32H5 is the first microcontroller series with system-on-chip (SoC) security services accessible for the next generation of smart, connected devices in industrial automation, medical, smart city, smart home, personal electronics and communication.
The STMicroelectronics STM32H5, available from Mouser Electronics, is a high-performance microcontroller (MCU) plus floating-point unit (FPU) based on the Arm® Cortex®-M33 32-bit RISC core, operating up to 250 MHz, blending high-performance with security and energy efficiency for mid-range MCU-based applications. The STM32H5 series is designed to perform "in the edge" and strengthen defenses against attacks on IoT assets. The Cortex-M33 core brings Arm TrustZone® architecture together with the STM32Trust TEE Secure Manager, delivering a range of security features, including system-on-chip (SoC) security services accessed via an industry-standard application programming interface (API). These security features save developers from having to write their own code while providing security services developed according to known best practices, simplifying development while ensuring effective protection.
Challenging the perception that increased performance comes with power dissipation constraints for developers, the STM32H5 MCUs also improve energy efficiency by leveraging ST's advanced 40 nm CMOS process technology and improved on-chip power-conversion circuits. With these MCUs, power dissipation is no longer a constraint when using a 250 MHz device in harsh environments where the ambient temperature can reach 125°C. In addition, STM32H5 MCUs are SIL-ready for products that must meet an appropriate safety integrity level (SIL), thanks to native hardware features that address a wide range of industrial and medical applications.
The STM32H5 MCUs embedded high-speed memories (128 Kbytes of dual bank flash memory and 32 Kbytes of SRAM) feature an extensive range of protection mechanisms for flash memory and SRAM. Enhanced I/Os and peripherals reinforce security with a HASH hardware accelerator and a true random number generator. The devices are offered in five packages from 25-pin to 64-pin, requiring a 1.71 to 3.6 V power supply, and operate from -40 to +85 °C/105 °C and up to 125 °C at low dissipation (+130 °C junction) temperature.
To learn more, visit https://www.mouser.com/new/stmicroelectronics/stm-stm32h5-mcus/.