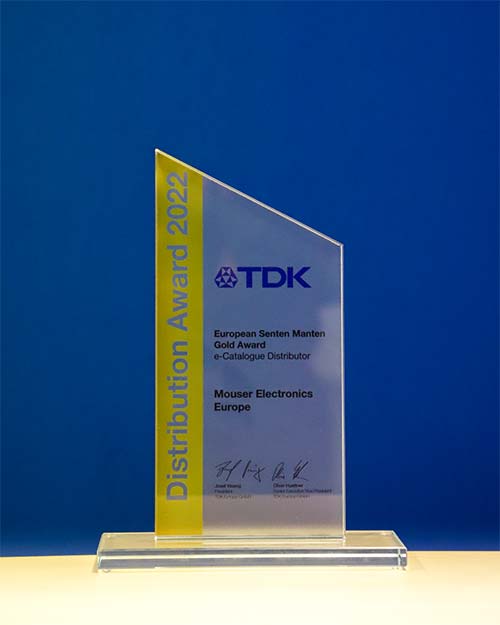 Mouser Electronics, Inc., the authorised global distributor with the newest semiconductors and electronic components, has won gold in the e-Catalogue Distributor category as part of the TDK European Distribution Award 2023. The purpose of the TDK European Distribution Awards, now in its tenth year, is to honour its highest-performing distributors. The e-Catalogue Gold distribution award recognises Mouser's outstanding performance based on the strength of its e-Catalogue performance in 2022 and on business development and operational success.
"We are extremely proud to receive this TDK European Distribution Gold Award in the e-Catalogue category, and we thank TDK for our strong business partnership," said Marie-Pierre Ducharme, Vice President, EMEA Supplier Marketing and Business Development at Mouser Electronics. "Our superb team is proud to have been recognised for its commitment to delivering exceptional service to TDK and our shared customer base."
"We would like to congratulate the entire Mouser team for their outstanding performance in the EMEA region in 2022," said Dietmar Jaeger, head of TDK's Global Distributor Division. "Mouser has continued to deliver excellent service and growth, and we are pleased to honour them with this award."
The main sales drivers for TDK in the region last year were products for e-mobility and charging infrastructure in the automotive sector, as well as components for regenerative energy production in the industrial electronics sector.
Mouser stocks a wide range of quality electronic components from TDK with a focus on application areas such as ICT, automotive, industrial and consumer electronics. The portfolio includes passive components, such as ceramic, aluminum electrolytic and film capacitors, ferrites and inductors, high-frequency products, and piezo and protection components, as well as sensors and sensor systems and power supplies.
To learn more about TDK, visit https://eu.mouser.com/manufacturer/tdk/.