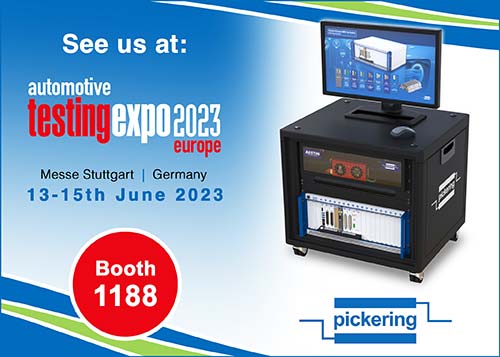 Pickering Interfaces, the leading provider of modular signal switching & simulation products for electronic test & verification, will showcase its Battery Management System (BMS) test demo on booth 1188 at Automotive Testing Expo 2023, Europe, at Messe Stuttgart in Germany from 13-15 June 2023.
The world's leading show for automotive testing, development, and validation, Automotive Testing Expo takes place annually in Detroit, Shanghai, and Stuttgart, covering ADAS and autonomous vehicle test, electric and hybrid powertrain test, battery and range test, EMI and NVH test and analysis, and the full spectrum of test and validation technologies for full-vehicle, component, and systems development. Over 400 exhibitors will showcase the latest products, services, and technologies in measurement tools, test rigs, simulation packages, durability testing, crash testing, dynamometers, emission measurement systems, and dynamic assessment tools, as well as proving grounds and test facilities.
Outlining the BMS test demo, Paul Bovingdon, Simulation Product Manager at Pickering explains: "With increasing adoption of electric vehicles (EVs), one significant challenge to be tackled is the effective testing and validation of Battery Management Systems (BMS). Using modular, PXI-based switch and simulation modules offers many advantages in BMS hardware-in-the-loop (HIL) test, including flexibility to optimize the test system to meet exact requirements; simple modification to address evolving needs; and an open, industry-standard architecture that promotes system longevity and mitigates obsolescence, while providing seamless integration of multi-vendor instrumentation modules."
The BMS test demo includes the following Pickering products:
41-752A-011 PXI Battery Simulator – simulates batteries in a stacked architecture
40-190B-002 PXI Fault Insertion – simulates cell shorts and broken wires
40-297A-050 PXI Precision Resistor – simulates battery load
42-297A-150 PXIe Programmable Resistor – tests BMS isolation resistance check
41-743-001 PXI Programmable Power Supply – simulates battery charger
43-920-001 PXI Embedded Controller
42-925-001 PXIe 18-slot Chassis
For more details, please visit: www.pickeringtest.com/bms
In addition to its BMS test demo, Pickering will also highlight the following switching and sensor simulation products on booth 1188 at Automotive Testing Expo 2023, Europe:
PXI & LXI high voltage switching solutions.
PXI fault insertion, programmable resistor, and thermocouple simulation modules.
LXI/USB modular chassis.
New multi-channel 300 mA battery simulator module updated with greater voltage isolation to allow BMS test of battery stacks up to 1kV.
Supporting cables and connectors.
Switch Path Manager (SPM) – the latest version of this industry-leading switching signal routing software adds auto-detection and route caching features that improve speed and performance.
eBIRST Switching System Test Tools – designed to simplify system fault-finding by quickly testing the system and graphically identifying the faulty relay.
Pickering Interfaces stands behind all of its manufactured products with a standard three-year warranty and guaranteed long-term product support.