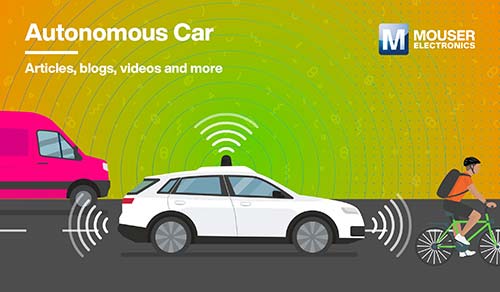 Mouser Electronics, Inc., the New Product Introduction (NPI) leader™ empowering innovation, is helping engineers stay ahead of the latest automotive design trends with an extensive content hub dedicated to resources and developments in autonomous vehicle technology. With increasingly complex hardware and systems, these vehicles require reliable, connected solutions to create a seamless user experience. Driver safety, whether on the road or via cybersecurity, requires significant consideration, making it all the more critical for automotive designers to have access to trustworthy resources and made-to-order components.
Mouser provides technical resources for various automotive design aspects, such as LiDAR design and ADAS power, in the all-inclusive content hub. Access to Mouser's articles, videos, and blogs enables designers of all skill levels to find advanced solutions with reputable components.
Mouser stocks the industry's widest selection of semiconductors and electronic components, including the following solutions for autonomous vehicle applications:
For the latest on solutions for autonomous vehicles, visit https://resources.mouser.com/autonomous/.