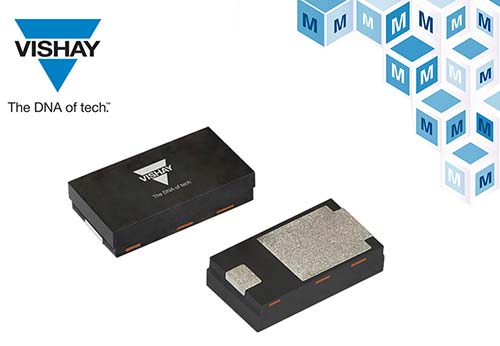 Mouser Electronics, Inc., the authorized global distributor with the newest semiconductors and electronic components, is now stocking the AEC-Q101 Qualified DFN  rectifiers from Vishay Semiconductors. These DFN-packaged components provide engineers with an ideal solution for power line polarity and rail-to-rail protection in consumer, industrial, and automotive applications.
The Vishay Semiconductors AEC-Q101 Qualified DFN rectifiers, available from Mouser Electronics, are housed in a low-profile DFN3820A package with a 0.88 mm typical height and low forward voltage drop. These rectifiers cover a 1 A to 5 A forward current range with 200 V, 400 V, or 600 V repetitive peak reverse voltage options. The oxide planar chip technology of the AEC-Q101 Qualified DFN rectifiers services a wide operating temperature range (-55C to +175C) and offers an automatic optical inspection (AOI) capable package with wettable flanks.
These AEC-Q101 Qualified DFN rectifiers meet the stringent standards required for ultra-fast VS-xEAH02HM3 components like ABS braking systems, dual voltage injection drivers, high-frequency inverters and clamping and snubber applications. The AEC-Q101 Qualified DFN-packaged rectifiers are lead-free, halogen-free, and RoHS compliant.
To learn more about the Vishay Semiconductors AEC-Q101 DFN rectifiers visit https://www.mouser.com/new/vishay/vishay-semi-automotive-dfn-rectifiers/.