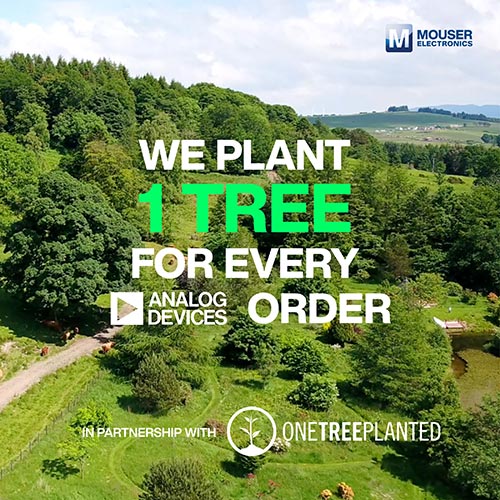 Mouser Electronics Inc., the authorised global distributor with the newest semiconductors and electronic components, and Analog Devices, Inc., a global semiconductor leader that bridges the physical and digital worlds to enable breakthroughs at the Intelligent Edge, have pledged to donate funds to One Tree Planted with the goal to plant up to 100,000 trees. Starting in February 2023, for every Mouser order placed in the EMEA region, including at least one line of Analog Devices products, One Tree Planted will plant a tree in reforestation projects across EMEA.
Between February and March 2023, the companies saw a total of 31,648 orders placed, which will be equally divided between projects supporting Climate Resilient Restoration in Germany, Essex Forest Initiative in England and Nationwide Community Tree Cover in Ireland. The trees will be planted in Autumn during the planting season.
"At Mouser, we are committed to making a positive impact on our communities, and through this collaboration, we can take significant steps towards achieving our goal," says Marie-Pierre Ducharme, Vice President, EMEA Supplier Marketing & Business Development at Mouser Electronics. "By working with Analog Devices on this charitable initiative, we are proud to be able to make a meaningful contribution towards helping preserve natural resources and create healthier communities." 
"With Mouser Electronics' commitment to giving back to the environment by planting a tree for every Analog Devices order, we are restoring forests, creating habitat for biodiversity, and making a positive social impact in projects across Europe," says Matt Hill, Founder and Chief Environmental Optimist at One Tree Planted.
Trees provide substantial benefits to the environment and our communities. They provide oxygen for humans to breathe and reduce the amount of stormwater runoff, which can decrease erosion and pollution in waterways and may cut down the effects of flooding. Many species of wildlife, including birds and mammals, depend on trees for habitat to provide food and protection.
One Tree Planted is a non-profit group focused on global reforestation. As an official partner of the United Nations' Decade on Ecosystem Restoration, they have planted over 40 million trees in more than 47 countries across the globe since 2014. In 2021, they planted over 23.5 million trees, more than doubling their impact from 2020. They seek to re-establish woodland, improve water, and soil quality, as well as create habitats for wildlife in areas that were historically forested.
Order Analog Devices products from Mouser now to ensure your contribution to the reforestation project. View Analog Devices' products here: https://eu.mouser.com/manufacturer/analog-devices/.
For more information on the charitable initiative, visit https://emea.info.mouser.com/adi-one-tree-planted/.