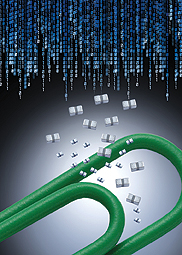 AVX Corporation, a leading manufacturer of advanced passive components and interconnect solutions, has expanded on its miniature ultra-broadband capacitors, GX Series, to include the GX01 ultra-broadband capacitor that addresses DC blocking issues from 160kHz (-3dB roll-off) to 40GHz. The GX01 capacitor provides a low insertion loss value of < 0.5dB through at least 40GHz. Designed utilizing AVX's patented precision termination process, the GX01 ultra-broadband capacitor features a standard EIA 0201 footprint to minimize board space requirements, and is available with X5R or X7S dielectric characteristics. The GX01 ultra-broadband capacitor is ideal for applications such as semiconductor data communications, optical receiver subassemblies, trans-impedance amplifiers and test equipment. "AVX's patented termination process allows the GX01 ultra-broadband capacitor to provide customers with ultra-low insertion and excellent return loss values" said Larry Eisenberger, senior marketing applications engineer at AVX. "We are working to further expand the GX Series product offering to include additional case sizes".
The GX Series is available in 100% tin terminations. All GX01 parts are RoHS compliant.
Lead time for the GX01 ultra-broadband capacitor is stock to six weeks.
AVX Corporation
www.avx.com