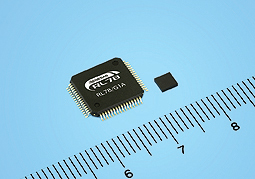 MSC now offers the new RL78/G1A 16-bit microcontrollers (MCUs) from Renesas Electronics. The new devices are ideally suited for use in demanding sensor applications and are available in 3 mm x 3 mm land grid array (LGA) and 4 mm x 4 mm ball grid array (BGA) packages.
In addition to an accurate 12-bit A/D converter and up to 28 analog inputs, the RL78/G1A MCUs have an independent power supply for internal analog parts that significantly reduces or completely eliminates noise influence from digital peripheral lines.
At the same time, extensive measures were taken to lower system power consumption with these new members of the RL78 Family. In addition to only 66 µA/MHz current consumption in active mode and 0.57 µA with RTC + LVD active, the RL78/G1A MCUs support a new low-power mode called the "snooze mode". The snooze mode supports A/D conversion and serial communication while the CPU is in standby mode. This can significantly extend the operating time of battery-powered devices.
Built-in safety mechanisms – such as a flash memory cyclic redundancy check (CRC) function, RAM parity error checking, clock fail and frequency detection circuit, A/D test function and illegal memory access detection – support compliance with safety standards such as the IEC60730.
Renesas Electronics' low-cost E1 on-chip debugging emulator and the IECUBE full-spec emulator are available as hardware development tools. For flash programming, Renesas
Electronics offers the PG-FP5 programmer or factory programming. Powerful support for system designers of application software is provided by the IAR Embedded Workbench integrated development environment (IDE) and optimized C++ compiler.
Samples of Renesas Electronics' new RL78/G1A Group of MCUs are scheduled for availability during the first quarter of 2012.
MSC Vertriebs GmbH
www.msc-ge.com