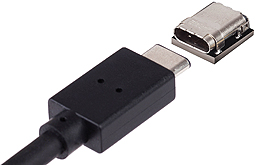 Lattice Semiconductor Corporation, the leader in ultra-low power, small form factor, customizable solutions, today announced three new, freely-downloadable reference designs that enable designers working in consumer, industrial and other sectors to quickly implement the cable detect and power delivery functions required to unlock the new capabilities of Type-C including 100W power, 20Gbps bandwidth, reversibility and flexibility.
"Leaders in this market will launch USB Type-C products by the middle of this year," said Gordon Hands, Director New Initiatives at Lattice. "We are providing ready-to-use, low power, miniature, cost-effective solutions that slash time-to-market and mitigate development risk."
The three solutions offered by Lattice address both Cable Detect (CD) and Power
Delivery (PD) functions and deliver:
• CD/PD targeting chargers
• CD/PD for devices such as laptops, docks, dongles hand-held industrial
• CD/PD-Phy for devices such as smart phones and tablets
The downloadable reference designs include: Schematic; BOM; Pin-list; Bitstream; and Code to allow Policy Engine customization. The designs are based on Lattice's iCE40™ ultra-low power, miniature and low cost FPGA families.
Lattice Semiconductor
www.latticesemi.com