Digi International announced the launch of the XBee® ZigBee Cloud Kit, a new all-in-one kit that allows anyone with an interest in M2M and the Internet of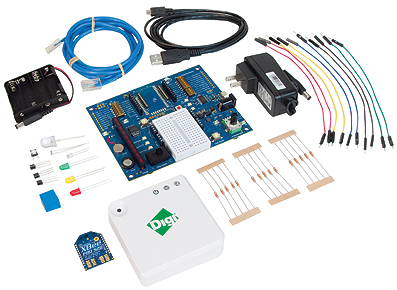 Things to quickly build a wireless hardware prototype, connect it to the Internet, and control it from the cloud.
The XBee ZigBee Cloud Kit is simple enough to help non-engineers get their creations connected to the cloud in 30 minutes and flexible enough for professionals to build rapid prototypes with advanced programming and cloud-based data sets.
Built around Digi's XBee ZigBee Gateway, the XBee ZigBee Cloud Kit includes code examples and powerful tools to easily create cloud-connected projects. It includes access to the Internet which enables remote control of the device and data through a customizable application.
Each kit contains:
• 1 XBee Gateway – ZigBee to Ethernet/Wi-Fi
• 1 XBee-PRO ZigBee 2.4GHz module
• 1 Development board with breadboard
• Basic prototyping components
– Wires, LEDs, Relay, Resistors, Temp Sensor
• Sample Web Application (Runs on Heroku)
– Open Source
– Configurable Widgets
– Integrated with Device Cloud
The XBee ZigBee Cloud Kit's low price point makes it a perfect choice for professional and student prototypers and for product developers interested in quickly creating cloud-connected solutions. The XBee ZigBee Cloud Kit is available for $199 MSRP.
Digi International
www.digi.com