March 2, 2015 in Multimedia, PowerVR Developers, PowerVR Graphics
Even though most headlines at MWC 2015 will tend to focus on flagship devices, a lot of the growth in mobile at the moment is coming from emerging markets where sub-$100 smartphones are selling in large volume.
By Alexandru Voica
Today we are introducing PowerVR G6020, a new and highly efficient Rogue GPU that provides an ideal solution for the ultra-affordable mobile market as well as embedded and IoT applications; think trip computers for affordable cars, smart appliances inside the home, multi-purpose printers and scanners – anything that needs a screen.
Reduce the clock rate to a few hundred MHz, and you might find it is also a suitable graphics processor for next generation high-end wearables. While the previously announced Series5XE-based GX5300 GPU focused on mainstream wearables, PowerVR G6020 goes for premium smartwatches and glasses, offering up to 2x more performance at a similar process node while also improving battery life.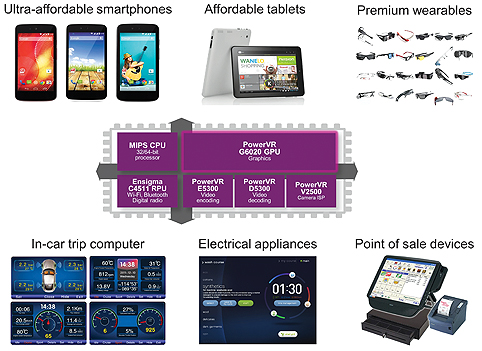 PowerVR G6020: a tiny OpenGL® ES 3.0-capable GPU
PowerVR G6020 is the smallest graphics processor from our Series6XE family and has been designed to deliver a smooth user experience for high-definition displays (720p at 60 fps); here are the key highlights:
• Performance: 400-500 Mpixels/second and 12.8-16 FP16 GFLOPS at 400-500MHz
• Silicon area: 2.2 mm2 at 400-500MHz (28 nm)
• APIs: OpenGL ES 2.0/3.0 (including new features like instancing for reduced CPU overhead)
• Operating systems: Android, Android Wear, Linux, RTOS (real time operating systems), etc.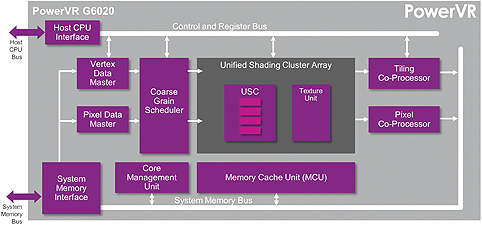 Balanced fillrate and GFLOPS performance
PowerVR G6020 also features a carefully designed microarchitecture optimized for cost-sensitive devices where area efficiency and a balanced feature set are the main driving factors; the diagram below offers an overview of the area optimizations we've made to the USC (unified shading cluster) architecture for this GPU: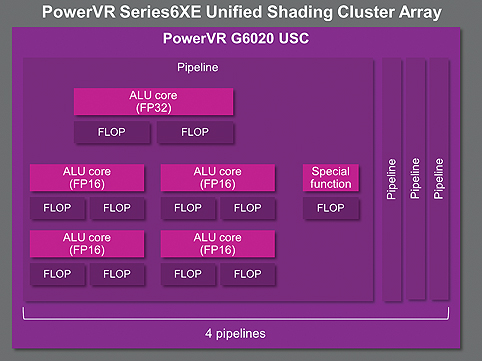 Since user interfaces do not require a lot of geometry, we've focused on implementing FP16 ALU pipes that deliver high-quality image processing at significantly lower area instead of wasting valuable resources on FP32 precision.
In addition, we've ensured that G6020 delivers a sustained pixel fillrate to match our GFLOPS performance; this balanced approach is critical for entry-level applications like fluid 3D user interfaces or casual gaming.
You can see how our PowerVR G6020 GPU fares versus the competition in terms GFLOPS per mm2 in the chart below: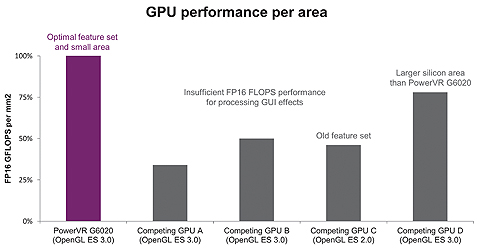 Chips for ultra-affordable mobile and IoT devices
Chip makers can now deploy our PowerVR Rogue architecture across multiple markets (mobile, IoT, automotive, home entertainment, etc.), targeting every category of devices from entry-level to high-end.
The diagram below presents an example of a chip designed for ultra-affordable mobile devices, including a multicore MIPS I6400 64-bit CPU, high-performance multimedia (PowerVR G6020 GPU, PowerVR D5300/E5300 VPU and PowerVR V2500 ISP) and a low-power Ensigma C4521 RPU for multi-standard connectivity.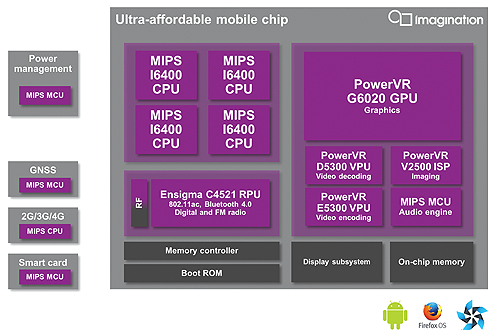 About Alexandru Voica
After having experienced the fast-paced world of the IP business as a junior engineer at various companies around Europe, Alexandru Voica has decided to pursue his dream of working in technology marketing and PR for Imagination Technologies. His background includes research in computer graphics at the School of Advanced Studies Sant'Anna in Pisa and a brief stint as a CPU engineer. When not planted firmly in front of his laptop, Alexandru can be found hitting the basketball court, singing along at a rock n' roll concert, enjoying art cinema or reading his favorite American authors.
Imagination Technologies
www.imgtec.com