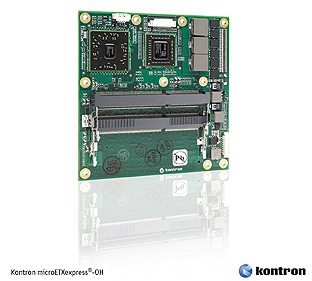 Kontron announced today the world's first Computer-on-Module in the space-saving COM Express compact form factor, the Kontron microETXexpress-OH based on the new energy-efficient and highly integrated AMD Embedded G-Series Accelerated Processing Units (APUs). Integrating a powerful parallel processing and graphics unit, in addition to the processor, this strikingly small Computer-on-Module stands apart because of its extremely high graphics performance as compared to other modules offered in a compact footprint.
With DirectX 11 and OpenGL 3.2 support, integrated Unified Video Decoder (UVD 3.0) and long-term availability, the Kontron COM Express compact Computer-on-Module microETXexpress-OH is an exceptional solution for SFF applications that require high-performance, high-speed graphics to produce fluid, high-resolution image and video displays. In addition to gaming and Kiosk POS/POI systems, these applications include large display panels, multimedia walls, professional AV equipment, as well as small-sized mobile devices such as test & measurement systems or mobile 3D ultrasound scanners and imaging systems used in medical or automation. Supporting OpenCL and Microsoft DirectCompute, the graphics unit of Kontron's microETXexpress-OH also accelerates parallel processing tasks for solutions that are designed to process parallel vector algorithms. Sample applications include mobile ultrasound devices, video surveillance with pattern recognition, laser detection systems, tracking systems, encryption and decryption systems in data communication as well as signal processing in software-defined wireless equipment.
Enhanced by the type 6 COM Express pin-out, the Kontron COM Express compact Computer-on-Module microETXexpress-OH has a variety of graphics interfaces making it well-suited for applications running multiple screens simultaneously. In addition to LVDS and VGA, the module has three digital display interfaces (DDI) through which developers can implement DisplayPort, HDMI, and DVI. Because the Kontron microETXexpress-OH natively supports of all the video interfaces in current use, developers also benefit from simplified application design, cutting both time-to-market and total cost of ownership. An additional benefit of the Kontron microETXexpress-OH is super-speed USB 3.0 support over the type 6 pin-out. Two USB 3.0 ports allow connection of the most modern peripheral components such as full HD video cameras or fast external storage media which facilitates building small machine vision systems with commercially available standard components, as an example.
The feature set in detail
The Kontron microETXexpress-OH, based on the COM Express type 6 pin-out, is scalable in four stages over the bandwidth of the AMD Embedded G series APUs: from the 1.2 GHz T44R single-core APU with 512 kb cache and AMD Radeon HD6250 GPU up to the 1.6 GHz dual-core variant T56N with AMD Radeon HD6310 and 2 x 512 kb cache. Thanks to this broad performance range, OEMs can adjust performance and energy consumption to the respective application requirements.
The Kontron microETXexpress-OH connects up to 8 Gbytes of DDR3 RAM via two memory sockets. Compliant with the new COM Express specification, COM.0 rev. 2.0, it implements 6x PCI Express x1 lanes Gen 2.0, 4x SATA 3, Gigabit Ethernet, and 6x USB 2.0. Additionally, two superspeed USB 3.0 ports deliver gross data rates that are more than ten times higher compared to USB 2.0 with up to 5 Gbits/s (625 Mbytes/s) in SuperSpeed mode.
For video interfaces, along with VGA and LVDS, the new COM Express compact module also offers DisplayPort and DVI/HDMI 2x each for quick and flexible connection of all monitor types currently available on the market. Altogether two independent displays can be activated. And with the integrated universal video decoder 3.0, the new Kontron microETXexpress-OH sets a new benchmark for multimedia systems. It can decode both 1080p BluRay videos with HDCP and HD MPEG-2 and DivX (MPEG-4) videos with minimal CPU load.
The new Kontron COM Express compact Computer-on-Module microETXexpress-OH supports the Windows OS and Linux. Additional BSPs will be available from Kontron in the near future.
For more information on the Kontron COM Express compact Computer-on-Module microETXexpress-OH, please visit:
http://www.kontron.com/products/computeronmodules/com+express/com+express+compact/microetxexpressoh.html