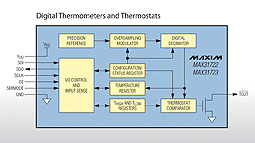 Maxim Integrated Products announces the MAX31722/MAX31723 digital thermometers and thermostats. The devices provide local temperature readings over a user-selectable SPI or 3-wire interface. While most competitive solutions require at least a 2.7V supply, these temperature sensors can operate from a voltage supply as low as 1.7V. This low supply voltage, along with a 2.4µA low-power standby mode, makes these products ideal for low-power or battery-operated systems.
The MAX31722/MAX31723 offer the designer an array of options to help ease design. An SPI or 3-wire interface is available for reading and writing data. The user can adjust the readout resolution between 9 and 12 bits for applications that require greater temperature resolution. Both high- and low-accuracy applications are satisfied with the MAX31723 (±0.5°C) or MAX31722 (±2.0°C).
The MAX31722/MAX31723 provide even more versatility for the user. Nonvolatile (NV) memory for thermostat thresholds and configuration register can be set at, or prior to, component placement with no need for reprogramming at each power up. This nonvolatile memory also increases system reliability by preventing loss of data when there is an unplanned loss of power.
Both devices offer a user-selectable 1-shot or continuous temperature-conversion modes. The 1-shot mode allows the device to limit its power usage by waking up and performing a single temperature conversion only upon user request. The continuous mode enables stand-alone temperature monitoring which relieves some of the burden on the system processor.
The MAX31722/MAX31723 have a 1.7V to 3.7V power-supply range. They operate and measure over the -55°C to +125°C temperature range. Both parts are available in an 8-pin µMAX® package and pricing starts at $0.79 (1000-up, FOB USA).
Maxim Integrated Products
www.maxim-ic.com