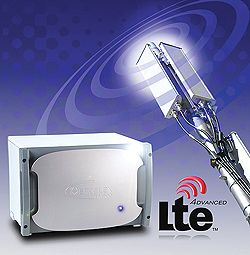 Aeroflex Limited, a wholly owned subsidiary of Aeroflex Holding Corp. announced that the TM500 LTE Test Mobile now supports carrier aggregation, which is a key enabling technology for LTE-Advanced. This feature allows multiple carriers comprised of either contiguous or non-contiguous spectrum to be added together, allowing wider channel bandwidths—and faster data rates—to be achieved.
For LTE-Advanced, 3GPP Release 10 introduced several new features to augment the existing LTE standard and to meet or exceed the targets of the International Telecommunications Union (ITU) for IMS-Advanced. These features are aimed at raising the peak data rate to 1 Gbps and beyond. Achieving this speed will require a channel bandwidth that is much wider than the 20 MHz currently specified for LTE. This will not be possible with just a single carrier in the limited spectrum bands available to most operators. Consequently, carrier aggregation—the ability to combine multiple carriers scattered around the spectrum—will be used to achieve the wider effective bandwidth that will be required, typically up to 100 MHz.
The TM500 Test Mobile, the de facto industry standard for testing LTE base stations or eNodeBs, now supports all of the carrier aggregation scenarios specified in 3GPP Release 10, and is also ready for all those currently proposed for Release 11. Aeroflex has already been working with leading network infrastructure vendors to enable them to develop and demonstrate a huge LTE data "pipe" that combines the capacity of different frequency bands while maximizing the benefits of the superior propagation capability in the lower frequency band.
Aeroflex
www.aeroflex.com