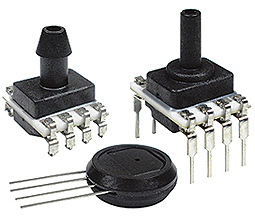 Honeywell introduced a single side liquid media option to its extensive line of TruStability® Pressure Sensors originally introduced in July 2009.
The new single side liquid media option allows customers to use one port of the sensor with condensing humidity or non-corrosive liquid media, such as de-ionized water, eliminating the complexity and expense of having to protect the sensor from this type of media. Honeywell has developed this option because of the many applications where condensing humidity conditions exist or where liquid media is the desired media to be measured.
The TruStability® Pressure Sensor product line is comprised of the HSC (High Accuracy Silicon Ceramic) Series and the SSC (Standard Accuracy Silicon Ceramic) Series that offer customers three key benefits not found in other pressure sensors currently available:
• Industry-leading stability helps prevent drift over time or from temperature and humidity extremes; often eliminates the customer's need to calibrate after mounting to the printed circuit board (PCB), and also the need for the end-user to calibrate the device;
• Temperature compensated and calibrated, providing an extremely tight accuracy specification;
• Modular and flexible design offers a wide variety of package styles and options, all with the same industry-leading performance specifications.
Honeywell International
www.honeywell.com