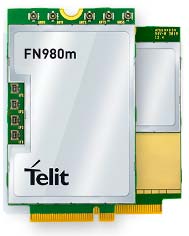 The advanced 5G/LTE M.2 Card FN980m of Telit features both the Sub-6 and the mmWave frequency bands with 5G, LTE, WCDMA and GNSS support. Thereby it is suitable for an industrial use to secure a wireless highspeed connection without interferences for the following applications: Router and gateways, in- and outdoor CPE, video broadcasting and surveillance. The FN980m is available here.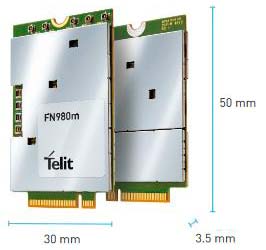 The M.2 card is compatible with the 3GPP Release 15 and supports the common 5G Sub-6GHz FDD and TDD as well as the new mmWave frequency bands. In addition it is suitable for 5G Stand Alone (SA) and 5G Non Stand Alone (NSA) systems, thus building a bridge from LTE to 5G. It offers fall-back options to 4G and 3G (HSPA+ Rel.8) networks.The M.2 card convinces with 5G DL/UL (Downlink/Uplink) datarates of 5.5/2.7Gbit/s.
Thanks to Voice over LTE (VoLTE) the FN980m offers an outstanding voice and sound quality. The new technology Voice over New Radio (VoNR) for 5G standard is currently under evaluation. It will facilitate an almost completely distortion-free and realistic transmission of the human voice. The Global Navigation Satellite System (GNSS) receiver supports the gpsOne Gen9 L1 band, the common choice for commercial applications. Four antenna connectors are available for LTE/Sub-6 GHz bands and another four connectors for mmWave antennas (Qualcomm QTM525/QTM527).
The FN980m M.2 card supports Over-the-Air (OTA) firmware updates. The size of the FN980m, 50 x 30 x 3,5mm, matches the industrial form standard M.2 (NGFF).
For more information about Telit's new generation of 5G/LTE M.2 cards and a direct ordering option, please visit our e-commerce platform at https://www.rutronik24.com.
https://www.rutronik24.com/search-result/qs:iotcom1069