Altera's H.265 Enhanced Motion Estimation Engine Paired with Server Software Enables 4Kp60 Performance with Up To 60% Efficiency Gain vs. x.264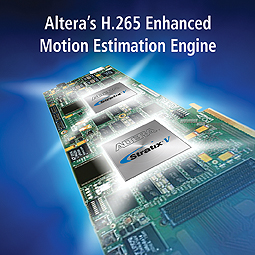 Altera Corporation announced that Harmonic, the worldwide leader in video delivery infrastructure, has chosen Altera's new 4Kp60-capable H.265 enhanced motion estimation engine (EME), a server co-processing solution based on the company's Stratix® V FPGAs to dramatically improve efficiency and performance of Harmonic's PURE Compression Engine for the delivery of 4Kp60 content.
Altera's Stratix V FPGAs, optimized with IP from Altera and its partners, enable Harmonic's market-leading encoding technology to deliver 4Kp60 real-time performance, while requiring substantially less power, rack space and CPU processing power than other solutions prevalent in the industry today. Altera's EME saves precious CPU cycles by offloading Server-class CPUs, reserving more processing power to deliver industry-leading efficiency and video quality today, with spare capacity for even more improvements tomorrow.
A demonstration of the products delivering 4Kp60 real-time performance has been featured in the Harmonic booth # SU1210 and Altera booth # SU11110 during the 2014 NAB Show in Las Vegas, April 7-10. The offering utilizes Altera's Advanced System Development Kit, built for demanding 4K and even 8K video transport and processing needs.
Altera
www.altera.com