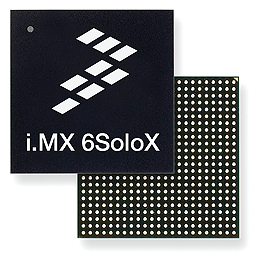 Freescale Semiconductor announces volume availability of i.MX 6SoloX, a highly integrated, multi-market applications processor enabling secure connected home, connected vehicles and Internet of Things applications.
Robust security is a hallmark of the i.MX 6SoloX. The SoC incorporates cryptographic cipher engines and a configurable resource domain controller that allows peripherals to be locked or shared by the CPU cores. Augmenting the domain controller is a secure messaging semaphore unit that enables cooperative, multi-OS software to safely access shared peripherals. The processor also features robust physical security, including advanced secure boot and protected data storage. These advanced hardware capabilities enable users to architect custom security solutions based on unique market requirements. Integrating ARM® Cortex®-M4 and Cortex-A9 cores on the same chip allows deployment of a user interface-rich operating system on the Cortex-A9 core while benefiting from the deterministic, real-time responsiveness of the Cortex-M4 core. Discrete CPU core power domains allow for independent power state control and low current draw with fast wakeup times from sleep modes. The SoC's system-aware architecture supports additional power efficiency by enabling complete shutdown of the Cortex-A9 core, even as the Cortex-M4 continues performing low-level system monitoring tasks. This benefit can be further enhanced by leveraging the extended light load efficiency of Freescale's proven PF0200 power management companion IC that has been optimized for i.MX processor system platforms.
The i.MX 6SoloX is well-suited for a range of display-centric automotive applications, and can also be used in lower cost, smaller packaging options with no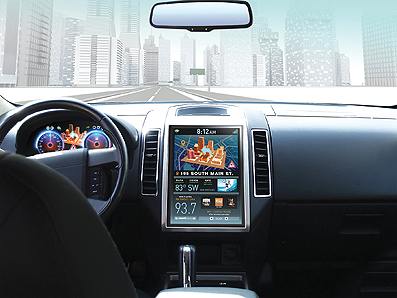 displays, including automotive telematics and modules in vehicle-to-vehicle (V2V) and vehicle-to-everything (V2X) applications. The device additionally supports a range of non-automotive products such as home automation, building control and healthcare applications.
i.MX 6SoloX applications processor is now shipping in volume production. The device is available with a comprehensive set of development tools and software support including Android and Linux operating systems for the Cortex-A9 core, the MQX™ OS for the Cortex-M4 core and the broad ARM community of support. The SABRE Board for Smart Devices based on the i.MX 6SoloX and featuring the PF0200 PMIC is available for customers today.
Freescale Semiconductor
www.freescale.com/iMX6SoloX