Freescale Semiconductor's new Kinetis KV5x MCU family is harnessing the full performance potential of the ARM Cortex-M7 core to enable far-reaching design enhancements in the expansive and rapidly evolving digital motor control market.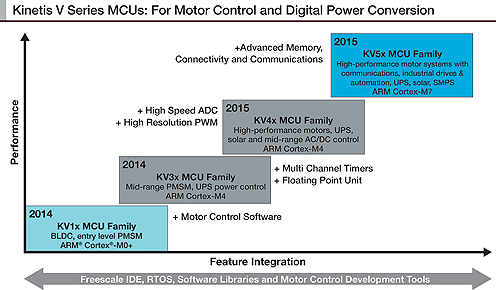 Motor control remains the number one consumer of electricity globally. With the vast majority of deployed motors commonly based on outdated, inefficient technologies, the migration toward digital-based control systems with secure networking capabilities presents a significant opportunity for both energy conservation and end-product feature innovation.
The Kinetis KV5x MCU addresses this dynamic need by combining leading-edge processing power, sophisticated analog and timing peripherals, and new connectivity, security and safety features. In doing so, it brings increased motor efficiency, remote system management and end-node interoperability, via the IoT, to a vast range of applications, from home appliances to complex industrial drives. The Kinetis KV5x MCU incorporates an IEEE® 1588 Ethernet controller, a cryptographic acceleration unit with random number generator, and a memory protection unit. With motors often employed in safety-critical environments such as manufacturing process control, these features allow developers to implement new services via the IoT infrastructure while protecting against erroneous inputs that could lead to an undesired operating condition. The KV5x features a 240 MHz ARM Cortex-M7 core with single precision floating-point unit. This executes program code from up to 1 MB of on-chip flash memory via a 256-bit wide interface that minimizes CPU wait states. 128 KB of data tightly coupled memory (DTCM) and 64 KB of instruction TCM (ITCM) maximize high performance deterministic processing, ensuring optimum response for real-time motor speed and position detection. And with four high-speed 12-bit ADCs, each capable of 5 Msps, the Kinetis KV5x MCU family can support fully asynchronous dual 3-phase motor control with two dedicated ADCs and 8 channel PWMs per motor. Dual 12-channel eFlex PWMs also support 312 picosecond resolution for driving up to 8 half-bridge power stages in power conversion applications.
Freescale Semiconductor
www.freescale.com/Kinetis/Vseries