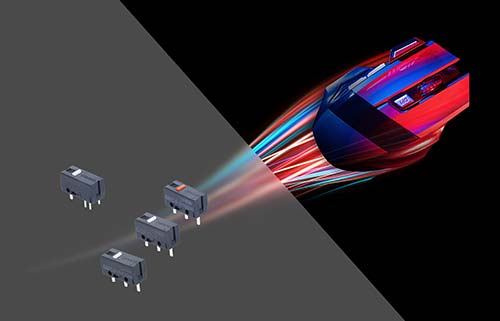 Omron Electronic Components Europe has introduced two new ultra-subminiature switches for next-generation high performance mouse mechanisms including gaming mice. The new D2FC series of mechanical switches is ideal for applications requiring clear click feel and long durability. The D2FP optical switch offers a much faster response, and even higher reliability in operation as well as reduced power consumption for the most demanding applications.
Developed in house by Omron specifically for gaming mice and similar applications, the D2FC mechanical switch series offers a fine snap action mechanism with a crisp, sharp feel and the distinctive feel beloved by gamers. Operating force can be selected by the designer to suit the individual applications, and the device is very durable with stable quality. The strong force type D2FC-7 offers 1N operating force and a rated lifetime of 5 million operations. The light force type D2FC-7N offers 0.59N operating force with up to 20 million or 60 million operations to position different market segments.
The new Omron D2FP optical switch redefines performance and keeps the advantages inherited from D2FC. With a typical response time of 0.015ms, it is around three hundred times faster than the D2FC mechanical switch. It also achieves significantly superior reliability with zero signal bounce. Its higher click rates and low friction ensure clear and smooth operation, with the comfort of an identical sound experience generated by the same structure as D2FC mechanical switches. The one-body design of D2FP is another advantage to mouse designer and manufacturers.
The new D2FP and D2FC switches are available now from Omron Electronic Components Europe as well as its partners, authorised stockists, and resellers.