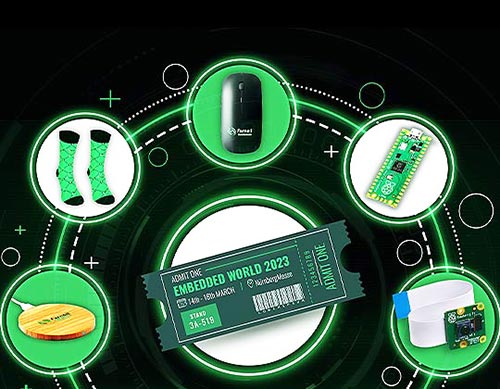 Farnell is to showcase 'Solutions for Tomorrow' related to key themes – Intelligence, eMobility and Embedded Computers – when exhibiting at Embedded World 2023.
Located in Hall 3A on Stand 519 within NürnbergMesse from March 14-16, Farnell will display market-leading products across three dedicated stations featuring suppliers such as Xilinx, NXP, ADI, Microchip, Renesas, Infineon, Raspberry Pi and Littelfuse.
Intelligence
Visitors to the Farnell stand are invited to step into the future and experience Intelligent Industrial Solutions and how these can help to streamline processes, improve efficiency, enhance safety and create more flexibility across industry. From advanced machine vision and power management to cutting-edge sensors and wireless connectivity, our intelligent solutions are driving the next wave of industrial revolution.
eMobility
From smarter car charging to vehicle to grid integration, and lightning-fast DC charging, our eMobility solutions are driving the future of sustainable transportation. Scalable, reliable, and cost effective EV infrastructure solutions are changing the game and visitors to the Farnell stand can discover how eMobility can revolutionise the way that we all think about transport.
Embedded Computers
With a focus on high performance, low power consumption, and compact design, Raspberry Pi is revolutionising the way we think about technology. Visit this station to see how these solutions can help streamline processes, improve efficiency and drive innovation across industry.
Representatives from teams including Sales, Technical, Product, Marketing and element14 Community will be present on the Farnell stand to meet with customers and suppliers throughout the three-day event in Nuremberg. Visitors to the stand will also have the opportunity to win guaranteed prizes including Raspberry Pi Pico boards and Raspberry Camera Modules 2 by answering simple questions about Farnell.
In addition, Clem Mayer of MAYERMAKES will join Phil Hutchinson from Farnell's element14 Community on stage to offer an insight into the historical journey taken with Raspberry Pi throughout the past decade. Together, they will talk through 10 years of history, projects and adventures with Raspberry Pi at 10:00 on Tuesday 14th March at the Exhibitor Forum, Hall 3, NurnbergMesse.
Rob Rospedzihowski, President Sales EMEA at Farnell said, "We are delighted to be back at Embedded World once again to meet our customers in person. Visitors to the Farnell stand will not only have the opportunity to engage face to face with our team and the industry's leading suppliers to learn how our products are providing Solutions for Tomorrow, but also everyone who enters our fun quiz is guaranteed to win a prize!"
Farnell will exhibit at Embedded World on Stand 519 in Hall 3A.