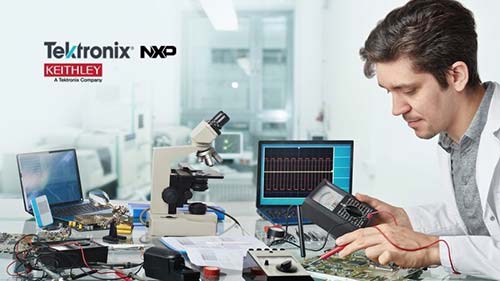 Farnell is hosting a video series by Tektronix taking a deep dive into one of the most popular development boards from NXP, the LPCXpresso55S69.
The LPCXpresso55S69 is a powerful development board with an MCU based on the Arm Cortex M33 architecture. It features UART and SPI support, an audio subsystem, a built-in accelerometer, and a host of connectivity options providing expansion for your embedded projects.
Developed by Tektronix, the video series will explore the various signals that are typically measured during the development of electronic projects with a focus on the embedded, power and automotive sectors.
Across six episodes, the short films will provide insights on the latest test and measurement solutions, such as oscilloscopes, probing solutions, fast sampling high-resolution digital multimeters, source measuring units, and arbitrary function generators, to help viewers understand how to measure these signals effectively. In addition, a range of topics are covered including:
Power consumption
Power Rail noise and ripple
Serial decode and trigger on a variety of buses
Analyzing potential EMI
Clock and signal integrity
Audio sub-system performance
Lee Turner, Vice President, Product and Supplier Management at Farnell Global, said:  "We are thrilled to partner with Tektronix to offer this video series on the LPCXpresso55S69 development board. Through this, customers can learn from one of the industry's leading experts about the features and capabilities of this powerful development board, as well as how to use the latest test and measurement solutions to analyse and optimise their designs."
This video series is a must-watch for anyone interested in embedded systems development and testing. Check out the first two episodes at https://uk.farnell.com/tek-nxp-application?ICID=I-HP-LB-TEKTRONIX-NXP-APPLICATION-AUG-FY23-WF3358595, and please bookmark this page to be notified of the latest episode so you don't miss out.