Ericsson has introduced two new series of DC/DC converter modules that are primarily aimed at industrial and railway transportation applications, as well as information and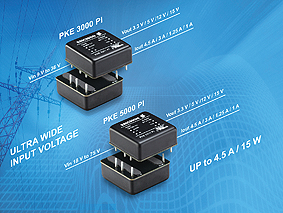 communications technology (ICT) applications that are operated with remote power supplies and/or multiple battery voltages. Ideally suited to use in distributed power architectures and industrial control systems, these new highly robust modules target typically 12V, 24V or 48V power supply line applications that require a board power supply to operate across a large range of input voltages, and without disrupting output characteristics when the input line is experiencing very high fluctuation.
The PKE3000PI operates over an input voltage range from 9V to 36V and the PKE5000PI operates from 18V to 75V. Each series offers four output voltages, delivering 3.3V/4.5A; 5V/3A; 12V/1.25A and 15V/1A. Offering a high efficiency of typically 89% at 12V out (full load), the modules offer low power dissipation and excellent thermal characteristics.
The modules are small and compact, measuring industry-standard dimensions 25.4 × 25.4 × 10.8mm (1.00 × 1.00 × 0.4 in), and come in highly robust encapsulated packaging, protecting the modules from dust, high humidity and highly corrosive or highly vibrational environments, which are commonly found in industrial or railway/transportation applications.
"In the industrial arena in particular, many applications require an ultra-wide-input voltage to handle a large variety of power sources", said Patrick Le Fèvre, Marketing and Communication Director, Ericsson Power Modules. "These new compact and highly robust DC/DC converter enable the possibility to use a single module to accommodate at least two different battery voltages with a single module, thereby reducing inventory and also delivering flexibility for designers that are developing single boards to handle different voltage sources."
Ericsson Power Modules
www.ericsson.com/powermodules