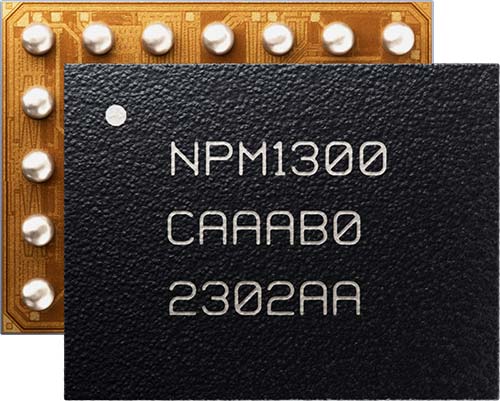 Effective immediately, the new nPM1300 Power Management IC (PMIC) from Nordic Semiconductor expands Rutronik's portfolio. nPM1300 already integrates essential functions required for embedded Bluetooth Low Energy designs. It provides hard reset functions for one or two buttons, accurate battery indication, a system-level watchdog, power failure warning, and recovery from a failed startup – all in a single, compact package. This reduces the number of components required and simplifies system design. Designed to provide highly efficient power control for Nordic's nRF52 and nRF53 series system-on-chips (SoCs), the nPM1300 ensures support for wireless networks such as Bluetooth LE, Thread, Zigbee or LE Audio. This makes the PMIC ideal for compact and advanced IoT applications. It is available at www.rutronik24.com.
In addition, the nPM1300 is highly power efficient and comes with accurate measurement functions for monitoring charge level and estimating battery life. It is suitable for use with USB-C compatible chargers for lithium-ion, lithium-polymer, and lithium iron phosphate batteries up to 1000 mAh. The nPM1300 has four individually controllable power rails including two high-performance buck regulators with a 200 mA current limit and two 100 mA load switches or 50 mA LDOs. The Power Management IC operates reliably at operating temperatures from -40° C to +85° C. 
Technical Specification:
Battery Charger

Regulatory compliance

Termination voltage

Power path

Charge current

JEITA compliant

3.5 to 4.45 V

Dynamic

32 mA to 800 mA

Input regulator

Input voltage

Output voltag

Overvoltage protection

USB current limit

4.0 to 5.5 V

4.0 to 5.5 V unregulated

22 V transient

1.500 mA

Buck regulator

Output voltage

Current limit

2

1.0 to 3.3 V

200 mA output each

Battery voltage
2.3 V to 4.45 V
Operating temperature
-40°C to 85°C
 More features at a glance:
Input regulator with USB support
800 mA charger
Ship- and hibernate modes
Five GPIOs and three LED drivers
Target applications:
Wearables
Hand-held entertainment devices
Personal medical devices
Rechargeable smart home sensors
For more information to the nPM1300 Power Management IC by Nordic and a direct ordering option, please visit our e-commerce platform at www.rutronik24.com.