Distec GmbH – one of the leading German specialists for TFT flat screens and system solutions for industrial and multimedia applications – is expanding its embedded portfolio with the industrial Embedded BoxPC EC-3200 from iBASE for applications with artificial intelligence (AI) with the highest performance demands. The EC-3200 is based on the ultra-modern, energy-saving and powerful NVIDIA® Jetson™ TX2. The processor combines exceptional speed and energy efficiency with a dual core Denver 2 and a quad core ARM® Cortex®-A57 processor. "Compared to the Jetson™ TX1, the energy efficiency and performance has more than doubled," explained Thomas Schrefel, Product Manager Embedded at Distec. "This is made possible by the ultra-modern NVIDIA Pascal architecture with 256 processing units and up to 1.33 TFLOPS. The EC-3200 thus offers real AI computing power for edge applications with 8 GB memory and 59.7 GB/s memory bandwidth." Due to its robust design, the EC-3200 is ideal for use in industrial robots, medical devices, and smart cities and for devices that support collaboration in companies.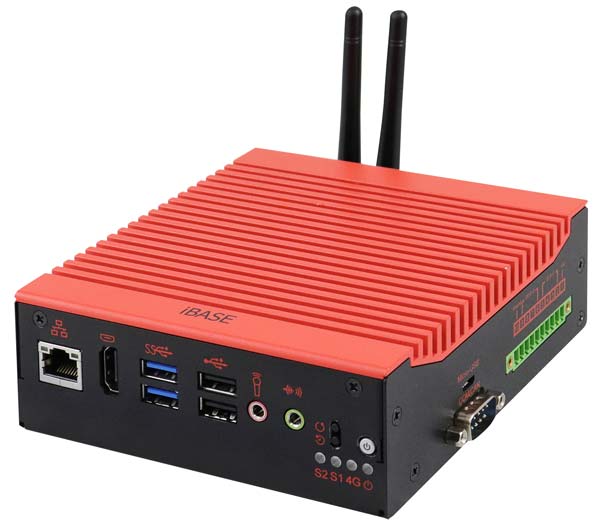 BoxPC for real deep learning applications
Today's edge- and cloud-based AI products require better computing and video analysis skills in order to perform sophisticated real-time data processing and to overcome latency problems. The EC-3200 is a long lasting solution with a fanless design for uninterrupted operation. It takes advantage of the Jetson™ TX2's GPU-accelerated parallel processing to handle data-intensive and mission-critical workloads with high energy efficiency and unmatched reliability. This makes it ideal for real deep learning applications
Energy efficient and reliable even in harsh industrial environments
The EC-3200 is designed for an extended temperature range from -20° C to +60°C. With its low power consumption, the NVIDIA® Jetson™ TX2 is 25 times more energy efficient than other state-of-the-art desktop graphics processors. This excellent performance allows real-time processing with little bandwidth consumption. Despite its compact dimensions, the EC-3200 has 8 GB LPDDR4 memory and 32 GB eMMC. HDMI, Gigabit Ethernet, two USB 3.0 and two USB 2.0 ports are available as I/O interfaces. On the housing there is a DB9 connection for RS232 or CAN bus, a micro USB slot and an external 10-pin GPIO connection. Two M.2 expansion sockets are available for expansion with optional SSD storage (2280 Key-M) and WAN modules (3042 Key-E). The operating system is based on a specially made Ubuntu 16.04 with Jetpack 3.2.1 and L4T 28.2.