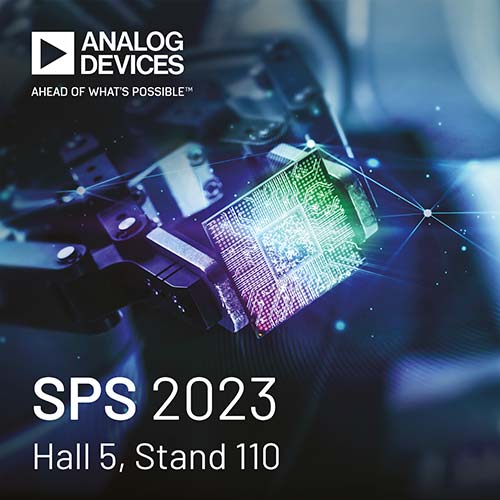 At SPS 2023 (Smart Production Solutions, Nuremberg, November 14 – 16, 2023), ADI will be demonstrating how the company collaborates with its customers to enable digital transformation, drive innovation, and power the next generation of industrial capabilities. To realize ambitious efficiency, productivity, and sustainability goals, the industrial sector must look to application-level solutions to capture, and act on, operational data. ADI's leading technologies bridge the physical and digital worlds with sensing, connectivity, power, and processing solutions, enabling our customers to transform their data into actionable insights.
Experience ADI's Industrial demos at Hall 5, Booth 110:
Interactive Industrial Smart Factory Experience: Virtually tour the digital factory of the future. Explore how factory configurations are changing and the ADI technologies enabling this evolution, including smart connected sensors, adaptive process automation, agile industrial robotics, modular motion control and real-time asset health monitoring.
Increase Productivity with Modular Mobile Robotics: See how an autonomous mobile robot (AMR) is deployed for optimal control and guidance, while identifying and avoiding obstacles, creating safer working environments through improved sensing. This ADAM (Analog Devices Autonomous Robot) demo showcases a complete AMR solution simplifying design with ADI's modular platforms, including high accuracy depth sensing, motor control of four independent wheel drives, intelligent AI processing and mapping, optimized communications, and battery management. This is supported by ROS software drivers for fast time to market.
Agile Manufacturing with Industrial Robotics: Discover how ADI is addressing three key pillars of robotics – motion control, precision position sensing and perception sensing. Get hands-on with an interactive robotic demo where you are challenged to control the robot and select a prize from a moving conveyor belt. Experience how the world's first single chip absolute multiturn and angle position sensor tracks rotation even when power is lost.
The Industrial Network of the Future: To fully enable the modern digital factory and realize the productivity gains offered by data and AI, the convergence between the IT and the OT networks must be both seamless and secure. This platform demonstration shows how ADI is empowering factory and process automation systems to leverage the vast quantities of generated data, bridging data to insights for efficiencies at scale. Gather key measurement data and new insights from all corners of the modern factory with ADI's Time Sensitive Networking (TSN), single pair Ethernet, software configurable I/O, IO-Link® and cyber security technologies.
Energy Efficient Production with Intelligent Motor Drives: Legislation is driving the move from traditional fixed speed, grid-connected motors to motors paired with variable-speed drives, for optimum load and torque matching to optimize energy usage. Explore next-generation industrial motor systems featuring AI and sensors for fault detection, diagnosed and displayed in real time.
Presentations by ADI experts in the technical conference program:
ADI's presence at SPS 2023 will be complemented by seven technical expert presentations during the SPS conference:
Tuesday, November 14, 2023:
10:10 – 10:30am: Intelligent System Design for Energy-Efficient Drives, presented by Blas Bogado Martinez (Forum Hall 6)
02:10 – 02:30pm: 10BASE-T1L beyond APL –  News from the Intelligent Edge, presented by Volker Goller (Forum Hall 6)
12:40 – 01:00pm: Integrated SoC Drives Smart 4-20mA Transmitter, presented by Franco Contadini (Forum Hall 8)
Wednesday, November 15, 2023:
09:50 – 10:10am: Simplifying the Design and Certification of Functionally Safe Designs by using Certified Converters, presented by Mary McCarthy (Forum Hall 6)
12:00 – 12:20pm: Accelerating Industrial Sustainability through Intelligent Edge Innovation, presented by Fiona Treacy (Forum Hall 8)
02:30 – 02:50pm: The World's First Single Chip Absolute Multiturn Position Sensor, presented by Enda Nicholl (Forum Hall 6)
03:50 – 04:20pm: High Voltage and Noise Robust Solutions in the Industrial Ecosystem enabled by Integrated and Miniaturized Isolation, presented by Maurizio Granato (Forum Hall 6)
For more information, visit ADI's SPS 2023 web page.
All trademarks and registered trademarks are the property of their respective owners.