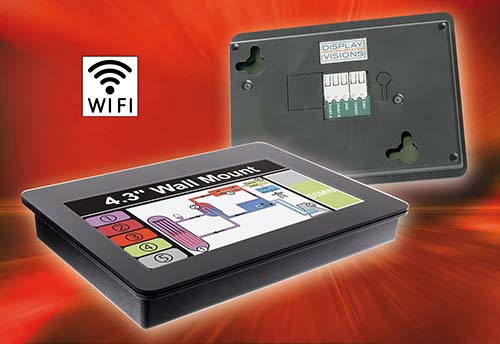 The new EA PLCS43-DS from DISPLAY VISIONS supports EDGE computing thanks to built-in intelligence. Typical user screens are stored directly in the display and therefore run without delay and smoothly at all times. Data is transmitted via the RS‑485 and WiFi interfaces. These displays are also available with a LAN interface optionally. An unregulated voltage between 5 V and 24 V is a sufficient power supply.
With just under 1,000 cd/m², the touch panel is easy to read even if the sun is shining directly on the display. With a 170° viewing angle, it is no longer necessary to stand right in front of the display – you can even read it easily from the side. No wrong colours or grey inversion effect make reading more difficult, as with conventional colour displays.
The screen contents and touch functions are compiled using a free tool, uniTFTdesigner, and loaded into the display. Large numbers as measured values, diagrams and easy-to-use keys can be implemented in multiple languages by the software.
The compact display (114 x 84 x 15.5 mm) is fixed by simply mounting it on the wall like a picture or using the clamp corner in a front panel. It is possible to mount them in front panels up to 6 mm thick. More compact integration directly into a device is also available by connecting it using a flex cable (SPI, I²C or RS-232). Other display sizes from 1.5 inch to 10.1 inch are in the pipeline.
Visit DISPLAY VISIONS at the SPS (Booth 330, Hall 8) in Nuremberg, Germany.