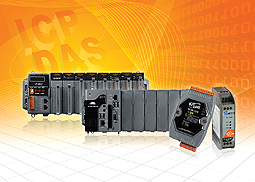 Amplicon proudly announce an exciting new partnership venture with ICP DAS, a world leader in the design, development and manufacture of high quality low cost industrial automation products and solutions.
For over 35 years, Amplicon has been providing the market place with advanced remote I/O controllers, distributed I/O modules and Programmable Automation Controller products and solutions; making Amplicon one of the leading suppliers in the field of industrial control and automation.
ICP DAS and Amplicon will begin collaborating immediately on the design, development and marketing of cost effective integrated solutions to automation industries around the globe. This strategic partnership will be a key part of the Amplicon product portfolio and will allow us to improve the ability to provide leading edge, innovative industrial automation solutions.
James Okpeh, Amplicon Measurement & Control Product Specialist commented: "This partnership between Amplicon and ICP DAS is fantastic news for our customers, who will be able to benefit from a wider range of Industrial automation products and solutions".
Amplicon
www.amplicon.com