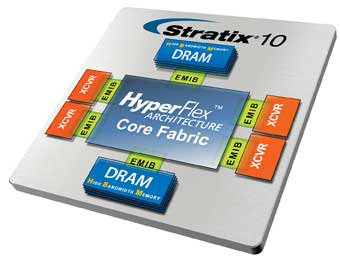 Altera Corporation disclosed the industry's first heterogeneous System-in-Package (SiP) devices that integrate stacked High-Bandwidth Memory (HBM2) from SK Hynix with high-performance Stratix® 10 FPGAs and SoCs. Stratix 10 DRAM SiP represents a new class of devices that is specifically architected to meet the most demanding memory bandwidth requirements in high-performance systems.
Stratix 10 DRAM SiP will offer over 10X higher memory bandwidth relative to discrete DRAM solutions that are available today. This unprecedented level of bandwidth is required in data center, broadcast, wireline networking and high-performance computing systems, which are processing an ever-increasing amount of data.
Altera is the first company to integrate this breakthrough 3D stacked memory technology alongside an FPGA. Stratix 10 DRAM SiP enables users to customize their workloads and achieve the highest memory bandwidth in a power-efficient manner. Altera is actively working with over a dozen customers to integrate these DRAM SiP products into their next-generation high-end systems.
Heterogeneous SiP products from Altera are enabled by using Intel's Embedded Multi-Die Interconnect Bridge (EMIB) technology. EMIB technology uses a small high-performance, high-density silicon bridge to connect multiple die together in a single package. EMIB technology features very short traces between die, allowing Altera to cost-effectively build heterogeneous SiP devices that provide higher performance and higher throughput at lower power compared to interposer-based solutions.
Altera
www.altera.com
www.altera.com/stratix10