Altera Corporation and Lime Microsystems, a leading provider of field programmable RF (radio frequency) transceivers headquartered in the UK, have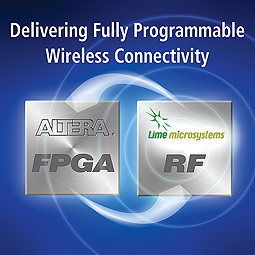 entered into a Strategic Cooperation Agreement focused on jointly developing and promoting programmable solutions for a diverse range of broadband wireless markets. The agreement will result in the development of optimized field programmable radio frequency (FPRF) transceivers, digital RF and baseband solutions that will enable system designers to reduce their overall costs, lower power, shorten time-to-market, and customize designs for key wireless infrastructure, enterprise, military, industrial, test and medical applications. As part of the agreement, Altera has also made an equity investment in Lime Microsystems.
As demand for mobile data traffic continues to increase, small cell wireless backhaul systems are projected to handle a quarter of mobile traffic by 2016, according to analyst firm Infonetics. This trend is reshaping mobile networks and carriers are looking for ways to simplify complexity and costs of small cell deployment.
Altera's high performance FPGAs, coupled with single-chip RF transceiver technology from Line Microsystems supporting all mainstream global wireless communication standards, will simplify small cell deployment and enable the creation of low- cost mobile networks.
Additionally, Myriad-RF, which was founded by Lime Microsystems and is a family of open source hardware projects for the prototyping and creation of fully configurable wireless platforms, also will give developers easy access to Altera-Lime optimized reference designs, boards, and software stacks and drivers to quickly, easily and affordably build next-generation wireless systems.
Altera
www.altera.com
Lime Microsystems
www.limemicro.com