Sensirion AG is launching a standard product for gas meters at the European Utility Week 2014 trade fair. The SGM70xx mass flow meter is based on a microthermal measuring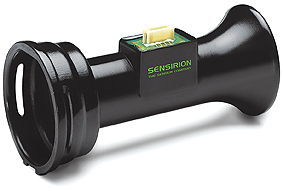 principle suitable for applications in the residential market. With this development, the Swiss company is expanding its knowledge and experience in the field of smart energy. The manufacturer of sensors and sensor solutions has been working on a microthermal solution for industrial and private gas meters for the past fifteen years. The mass flow meter has proven its mettle in the field in Italy and Germany for over three years, not least thanks to the extensive experience brought to bear in its production. The new SGM70xx is the first microthermal gas flow module to be produced as standard by the sensor expert and will be available from March 2015.
The SGM70xx is available for G1.6 and G2.5 gas meters. It boasts impressive reliability, long-term stability, dust and dirt resistance and a compact design that enables easy integration in gas meters. The mass flow meter is digital, temperature-compensated and pressure-corrected. It is also fully calibrated for air and natural gas and has a standard connection and I2C interface.
Sensirion
www.sensirion.com