Zytronic will be showcasing applications at electronica that demonstrate what is possible at the limit of touch screen technology and give an insight into emerging trends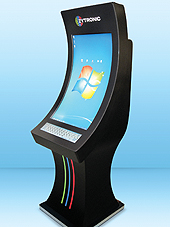 for human-machine interfaces. The company, which is the leading developer of projected capacitive touch sensor technology for ultra large format displays, will focus, in particular, on curved screens. The centrepiece of the stand will be a proof-of-concept kiosk incorporating a concave 40-inch multi-touch screen. A waist height 19-inch 'Qwerty' touchscreen keyboard has also been included on the same 'zero bezel' printed glass interface, with the two touch sensors managed by a pair of Zytronic ZXY200 controllers managed by a single PC.
Competing for customers, companies are increasingly seeking more eye-catching units for digital signage and self-service applications that deliver a more enjoyable user experience. Large format, multi-touch-enabled screens are gaining wider acceptance and curved screens are seen by many observers as the next wave for adoption. Zytronic is in the vanguard of the application of high performance touch technology to large curved screens for public use.
Zytronic is also demonstrating the newest addition to its proprietary MPCT™ multi-touch projected capacitive product portfolio, the ZXY300, a touch controller that enables significant improvements in operational performance on ultra-large format MPCT touchscreens (above 55-inches in size).
By combining innovative electronic design with updated firmware containing its latest touch detection algorithms, ZXY300 can boost the density of touch data captured by the screen, significantly increasing touch resolution, whilst still maintaining millisecond response times. This means it is possible to quickly distinguish between up to 40 individual touch points that are closer than ever before, even on the largest MPCT touchscreens.
The extra data gathering capability of the ZXY300's electronics and firmware increases the performance on ultra large MPCT sensors. As a result it is possible for the largest Zytronic multi-touch sensors to determine the positions of individual simultaneous touch events with far greater precision.
Used in conjunction with MPCT multi-touch sensors, the new ZXY300 touch controller is suited to a variety of applications where multi-touch precision is of prime importance, even on the largest 4K displays. These include interactive exhibits in museums, multi-user design/ architectural workstations, cataloguing and assisted selling in retail and banking applications, car showrooms, as well as command/control systems in utility companies and industrial facilities.
Zytronic
www.zytronic.co.uk