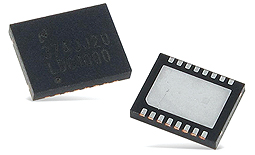 Mouser Electronics, Inc. is now stocking the world's first Inductance-to-Digital Converter from Texas Instruments which is a contact-less, short-range sensing technology that provides a revolution in sensing.
The Texas Instruments LDC1000 Inductance-to-Digital Converter available from Mouser Electronics provides a sensing technology that enables low-cost, high-resolution sensing of conductive targets in the presence of dust, dirt, oil, and moisture, making it extremely reliable in hostile environments. Using a coil which can be created on a PCB as a sensing element, the LDC1000 enables ultra-low cost system solutions. Inductive sensing technology enables precise measurement of linear/ angular position, displacement, motion, compression, vibration, metal composition, ideal for applications in markets such as automotive, consumer, computer, industrial, medical, and communications.
The LDC1000 is the world's first inductance-to-digital converter, offering the benefits of inductive sensing in a low-power, small-footprint solution. The product is available in a SON-16 package and offers several modes of operation. An SPI interface simplifies connection to an MCU. The LDC1000EVM is an evaluation module that can be used to evaluate the LDC1000 Inductance-to-Digital Converter.
With its broad product line and unsurpassed customer service, Mouser caters to design engineers and buyers by delivering What's Next in advanced technologies. Mouser offers customers 20 global support locations and stocks the world's widest selection of the latest semiconductors and electronic components for the newest design projects. Mouser Electronics' website is updated daily and searches more than 10 million products to locate over 4 million orderable part numbers available for easy online purchase.
Mouser Electronics
www.mouser.com