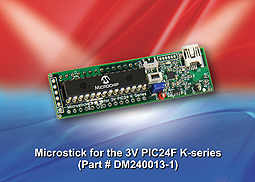 EP&Dee is offering its readers the chance to win a Microstick for 3V PIC24F K-series (#DM240013-1). This Microstick is an easy-to-use, flexible USB powered development platform. It's the perfect solution for those looking to get started with Microchip's lowest cost 16-bit microcontroller families, PIC24F "KL" and "KA", designed for extremely cost sensitive consumer, medical and industrial applications.
The Microstick for 3V PIC24 K Series is designed to provide an easy-to use, economic development environment for 16-bit microcontrollers. The board includes an integrated debugger/programmer, a socket for the target microcontroller chip and pins that facilitate insertion into a prototyping board for extremely flexible development.
At about half the size of a credit card, it is extremely portable, and can be plugged into a prototyping board. This Microstick ships with a USB cable, header pins for proto board use, and the PIC24F16KL402, and PIC24F16KA102 MCUs.
For the chance to win one of the two Microsticks for 3V PIC24F K-series, please visit: http://www.microchip-comps.com/epdee-microstick3v
and enter your details in the entry form.