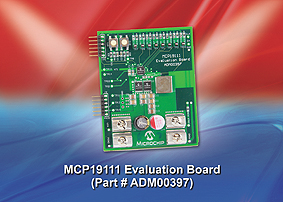 EP&Dee are offering you the chance to win an MCP19111 Evaluation Board (ADM00397).
The MCP19111 is a digitally-enhanced PWM controller.
It combines a pure-analog PWM controller with a supervisory microcontroller making it a fast, cost-effective, and configurable power conversion solution.
The MCP19111 is ideal for standard power conversion, LED drivers, and battery charging applications.
It demonstrates how the MCP19111 device operates in a synchronous buck topology over a wide input voltage and load range. Nearly all operational and control system parameters are programmable by utilizing the integrated PIC microcontroller core. MPLAB X IDE can be used in conjunction with a Graphical User Interface (GUI) plug-in to easily configure the MCP19111. Alternatively, the user can program the MCP19111 using their own firmware, tailoring it to their application.
The evaluation board contains headers for ICSP™ (In-Circuit Serial Programming™) as well as I2C communication, pull-up and pull-down resistor pads and test point pads on each GPIO pin, and two push buttons for system development.
For the chance to win an MCP19111 Evaluation Board, please visit: http://www.microchip-comps.com/epdee-mcp19111
and enter your details in the entry form.