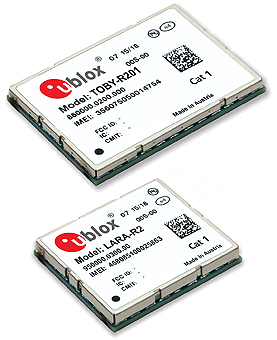 u-blox announces a portfolio of new LTE low data-rate cellular modules supporting LTE Cat. 1 for IoT and M2M applications in the industrial and automotive markets. Major carriers are rolling out LTE networks worldwide at an accelerated pace, considering the sunset of their existing 2G and 3G networks. Devices that are expected to operate for years to come need to incorporate LTE technology in order to ensure longevity.
The portfolio consists of multi-mode, multi-carrier and of LTE-only modules specific for large North American carriers. All modules provide long-term LTE technology at lower speeds, ideal for industrial and connected-car applications (10Mb/s download, 5Mb/s upload), at a significantly lower cost than typical LTE Cat. 4 modules. All modules operate from -40°C to +85°C, making them suitable for demanding industrial and automotive devices. The unique combination of performance and versatility makes these modules ideally suited for M2M applications, such as telematics and smart metering, as well as security and surveillance systems with the need for Voice-over-LTE (VoLTE).
"Building on our philosophy of customer-driven innovation, u-blox is once again delivering a competitive advantage with cost-effective and long-term solutions for IoT and M2M applications. The new Cat.1 modules will enable our customers to develop devices supporting LTE technology at an acceptable cost, because LTE Cat. 1 delivers lower speed at a lower cost," explains Stefano Moioli, Director Product Management Cellular at u-blox. "We expect LTE Cat. 1 technology to become the future norm for M2M applications," he adds.
The u-blox LTE Cat. 1 module portfolio includes the following variants:
• TOBY-R201 (LTE bands 2, 4, 13, 17 and HSPA bands 2, 5) is a multi-mode, multi-carrier LTE Cat. 1 module with HSPA fallback for North America. Its form factor in a 24.8 × 35.6 mm2 LGA package is the same as the TOBY-L2 Cat. 4 modules designed for applications requiring high data rates. The first samples will be available in October 2015.
• LARA-R200 (LTE bands 4, 13) and LARA-R202 (LTE bands 2, 4, 17) are LTE Cat. 1 modules for the largest North American carriers, available in a compact 22.0 × 27.5 mm2 LGA form factor, and fit on the nested design pads compatible with other u-blox form factors. The first samples will be available in early 2016.
Additional variants for Europe and APAC are planned.
The modules also follow the u-blox "nested design" philosophy to maintain form factor and software continuity. This allows customers to easily upgrade their products with each new generation of u-blox wireless modules without having to change the PCB designs. It allows for easy migration contributing to maximized investment, simplified logistics and drastically reduced time-to-market.
u-blox
www.u-blox.com