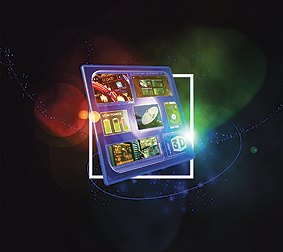 With the launch of the AMD Embedded G-Series platform AMD has set a new benchmark for embedded computer technologies. The platform is the world's first to integrate both a low power CPU and an advanced DirectX® 11 capable GPU into a single embedded Accelerated Processing Unit (APU). Working in conjunction with the advanced x86 processor cores, the APU's multiple vector cores enable software developers not only to create innovative new "number crunching" applications that expand embedded computing application areas, but also enable many existing embedded computer applications to run much faster without exceeding the existing power envelopes of SFF devices.
This also makes the AMD Embedded G-Series platform ideally suited to become the successor for most of the competing embedded platforms ranging from low power mobile embedded devices up to rugged industrial servers at the top edge of embedded.
The support of new tools such as DirectCompute and OpenCL™ for thread-level and data-parallel application development simplifies the task of creating new applications.
Today's CPUs lack the performance
Approximately every two years, advances in semiconductor technology allow chip architects to double the number of transistors they can fit in a given area of silicon. Over the past decade, these extra transistors have been used to increase the size of on-chip caches and add more ?86 processor cores to designs, making today's CPUs the fastest processors ever. But even as fast as they are, today's CPUs lack the performance to deliver a vivid, modern computing experience on their own. The latest applications require CPUs that can deal with vast amounts of data and require hundreds, if not thousands of individual threads to manipulate the massive databases needed e.g. for real-time pattern recognition in quality control, sonar or radar data analysis, video surveillance or medical imaging applications like the detection of anomalies in a 3D X-ray image – to name just a few. Not surprisingly, traditional CPU architectures and application programming tools optimized for scalar data structures and serial algorithms are not the best match for these new vector-oriented, multi-threaded and data-parallel models.
Programmable vector processors improve processing speed
Fortunately, innovative architectures and tools better suited to these new workloads have emerged. Graphics processing units (GPUs), originally intended to enhance 3D visualization, have evolved into powerful, programmable vector processors that can accelerate a wide variety of software applications. Soft?ware tools like Direct Compute and OpenCL™ permit developers to create such applications based on open standards that combine the power of CPU cores and programmable GPU cores, and run on a wide variety of hardware platforms. Several ambitious independent software vendors (ISVs) have already added support for these new vector capabilities into their most advanced products, but until now, they had to structure their code around proprietary hardware and software interfaces to get the job done. As one can imagine, this required a lot of effort and the results were often suboptimal.
AMD's new Accelerated Processing Units (APUs)
The new AMD Fusion APU-based Embedded G-Series platform is for the first time eliminating these barriers by design. AMD's new APUs com?bine general-purpose ?86 CPU cores with truly programmable GPUs on a single silicon die. This enables OEMs to create new generations of applications and user interfaces without the constraints of the traditional CPU architectures that have dominated the computer industry for decades. Others have also lashed a CPU and a basic graphics unit together in a single package, but none have attempted this feat with truly programmable GPUs, let alone GPUs that can be programmed using high-level industry-standard development tools like DirectCompute and OpenCL™. The new APUs will appear just like today's DirectCompute and OpenCL™ platforms from the viewpoint of the software that runs on the platform.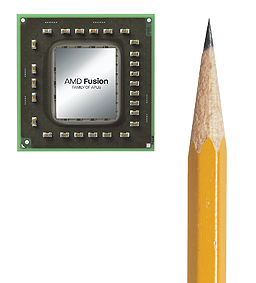 This means resources that OEMs commit today to support current platforms can remain useful on future platforms. Furthermore, the new APUs also include a variety of critical system elements, including memory controllers, I/O controllers, specialized video decoders, display outputs, and bus interfaces. All this on small form factor APUs that are scalable from single core to dual core adapted to the requirements of their target markets, delivering high performance in a power efficient platform for a broad variety of embedded designs. But what are the joint key features and benefits of the new AMD Embedded G-Series platform for OEMs and embedded system end users?
Outstanding multimedia and visual experience
First, the new AMD Embedded G-Series platform enables a full multimedia and Internet experience and a new level of visual performance with 87% improvement in the 3DMark06 score1 and over three times the performance per watt compared to the previous low power generation2. Prior to the AMD Embedded G-Series platform, the use of discrete graphics devices or add-in boards was required to achieve a comparable level of graphic and video performance which resulted in much higher power consumption. The AMD Embedded G-Series processor is also the first in its category to incorporate DirectX® 11 capable graphics with OpenGL 4.0 and OpenCL™ support.
The availability of these advanced graphics APIs helps the software development community to easily build tomorrow's applications today. For these applications, the platform also supports dual independent displays through a rich variety of interfaces, including DisplayPort, DVI and HDMI as well as the embedded interfaces LVDS and VGA at a maximum resolution of 2560×1600 pixels. All these enhancements make the AMD Embedded G-Series platform an ideal choice for a wide range of applications in the converging embedded markets.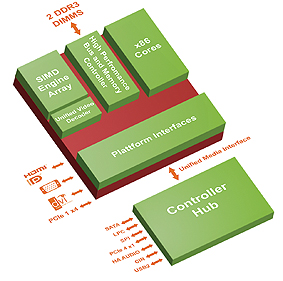 On the one hand, the new technology not only serves standard consumer PC technology such as notebooks or tablets but also embedded applications in the consumer electronics (CE) area, such as integrated Set-Top-Boxes (?STB) for IP-TV as well as streaming clients or game consoles. On the other hand, the scalable platform also serves non-consumer orientated embedded applications, which demand exceptional visual and overall performance on a small form factor and fan-less design in combination with long-term availability. They can be found, for example, in the industrial auto?mation, infotainment, digital signage, gaming, medical and transportation markets.
Innovative Small Form Factor Designs
Owing to the continuous processor design improvements, the AMD Embedded G-Series platform has become a compact, power-optimized design. The integration of the APU device reduces the footprint of a traditional three-chip platform to two chips. The APU and its companion controller hub simplifies the design, requiring fewer board layers and a smaller power supply. With a 48% area efficiency improvement compared to the previous platform generations3, the small footprint and low power consumption help reduce overall system costs and enable fan-less ultramobile devices, such as TabletPCs for logistics and healthcare, to run longer between battery charges.
Minimized Product Life Cycle Costs
With an array of performance options, ranging from a 1.2GHz single-core APU up to the 2 ? 1.6GHz dual core variants, the AMD Embedded G-Series platform enables OEMs to utilize single board designs for the whole span – from entry-level up to high-end solutions. Thus one platform can be utilized for a whole span of product variants, e.g. for a product family of panel PCs ranging from low-power up to high-performance versions. And if one has developed a new system based on this platform, the reusability factor for a new design is tremendous because the processor's high scalability covers up to 80 percent of today's performance requirements in all embedded markets.
This commonality of the scalable platform design simplifies the supply chain and helps minimize operational complexity, along with the associated costs, helping to drive better platform economics.
The single, scalable platform design helps OEMs reduce development costs, optimize solutions and increase product stability. Furthermore AMD's embedded lifecycles help to ensure the long-term availability of the platform which is essential, especially for the non-CE embedded computing markets.
Conclusion
The AMD Embedded G-Series platform provides embedded customers with a complete and scalable, long term supported platform that helps to speed up system design and development cycles and time to market for applications, which offer an outstanding performance and visual experience, while maintaining very low power consumption. With all these benefits available on a dramatically reduced footprint, it is not surprising that parallel to the launch of the new AMD Embedded G-Series platform, several embedded hardware manufacturers, such as Compulab, Congatec, Fujitsu, Kontron and Quixant have announced they plan to support the world's first APU on a broad range of embedded form factors. With the introduction of one of its most competitive technologies to date, AMD's new APU technology is a compelling solution which is not only suitable for up to 80% of the entire embedded market, but also, and excitingly so, has the potential to revolutionize the embedded computing market itself. Thus, OEMs should consider evaluating this new technology in their endeavour to fulfil customers' demands for a vivid user experience and massive data throughputs in all offered performance classes.
1 When comparing the AMD G-T56N processor to the AMD AthlonTM Neo L325/780E Platform.
• The AMD G-T56N 3DMark06 (1280 x 1024) score of 1938
• AMD ASB1 AthlonTM Neo 325/780E platform, 3DMark06 (1280 x 1024) score of 1033
• (1938-1033)/1033 = .876 x 100 = 87%
• Internal testing of current vs. previous generation AMD processor-based embedded system as of October 13, 2010 showed 87% improvement of 3DMark06 over previous generation. Current system:
AMD G-T56N APU, Inagua development platform, 2GB RAM, Windows 7. Previous generation: AMD Athlon™ Neo L325 processor, MSI 9858 motherboard, 2GB RAM, Windows 7
2 When comparing the AMD G-Series T44R Platform to the AMD SempronTM 210U/780E platform running 3DMark06.
• T44R: 1401(3DMark06 1280 x 1024) / (9+4.7) = 102.3 3DMarks/Watt
• >> AMD SempronTM 210U/780: 1000 (3DMark06 1280 x 1024)/ (15W+13W+4.5W)=30.8 3DMarks/Watt
• >> 102.3/30.8 = 3.32
• Internal testing of current vs. previous generation AMD processor-based embedded systems as of October 13, 2010 showed more than 3X graphics performance-per-watt advantage for the current generation. Current system: AMD G-T44R APU(9W TDP), Inagua development platform, 2GB RAM, Windows 7. Previous generation: AMD Sempron™ 2010U processor (15W TDP), MSI 9858 motherboard, 2GB RAM, Windows 7. Graphics performance-per-watt calculated based on 3DMark®06 benchmark divided by solution thermal design power (TDP).
3 The AMD G-Series Platform offers a 48% smaller footprint over the previous generation.
• G-Series APU (19 x 19)361mm2 + G-Series FCH (23 x 23) 529mm2 = 890mm2
• ASB1 729 mm2 + 780E 441 mm2, + SB710 529 mm2 = 1699mm2
• (1699mm2 – 890mm2 )/1699mm2 x 100 = 48%
www.amd.com