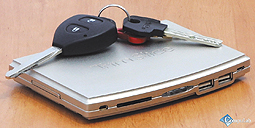 CompuLab is announcing immediate availability of the NVIDIA Tegra 2 based Trim-Slice miniature computer.
Trim-Slice is offered in 3 configurations:
Trim-Slice Barebone – with 1GHz Tegra 2,1GB RAM, HDMI port, Gigabit Ethernet, 4 USB ports, 2 SD slots and RS232 serial port.
Trim-Slice Barebone MSRP is $199.
Trim-Slice Value – adds a 4GB micro-SD card with Linux pre-installed and a USB 802.11n WiFi adapter.
Trim-Slice Value MSRP is $219.
Trim-Slice Pro – with 1GHz Tegra 2, 1 GB RAM, 32GB SSD with Linux pre-installed, HDMI and DVI ports, Gigabit Ethernet, built-in 802.11n WiFi, 4 USB ports, 2 SD slots, RS232 serial port and a USB Bluetooth adapter.
Trim-Slice Pro MSRP is $319.
Trim-Slice currently runs Linux and is supported in the mainline kernel revision 2.6.39.
CompuLab
www.compulab.co.il